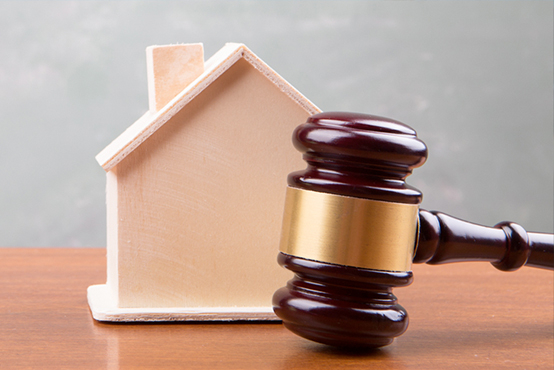 Buying property at auction - an expert's guide
17th August 2022
Quanta has nearly reached its target raise of £1.5 million on the Crowdstacker platform, and much of the money raised so far has already been put to work reaping investors between 5.75% and 6.8% p.a. interest.
Many of those who have chosen to invest in this way are interested in property investment but are happy to let the experts like Robby du Toit, who heads up Quanta, do the hard work.
But for those of you who love the idea of having a go at buying and selling property yourselves, Robby, a seasoned developer with a keen eye for spotting a bargain, has pulled together his best tips for holding your own at a property auction.
To find out more about the Quanta investment click here
Prepare to win
Most people focus on the actual auction itself with the buzz of being in a room where hundreds of thousands of pounds are being spent and people are competing to get the best deal of the day. However, it's in the weeks leading up to the auction where the real work starts.
Auction houses will list properties to be sold at auction around a month before the sale date which gives you a short period of time to do the key preparation. This is the time when you need to get all your ducks in a row to maximise your chances of success.
To begin with you need to scan the properties listed and decide which one or ones you want to bid on. Before you do this you should have a good idea of the areas you are interested in, your budget for each property and what type of property you want to buy.
If you are buying somewhere to live in yourself then of course this will be dictated by your own wants and needs. If you are buying to do up and sell or to rent, then you need to understand the local market so you know who your customers are. As an example of this you would generally want to avoid buying a large family house in an area where the majority of renters or buyers are young single professionals. If you can maximise the number of likely buyers or renters you could 'sell' your property to, you can also maximise your chances of getting the best price. To get a good idea of the local market speak to local estate agents, read blog articles on their websites which will often have interesting data and information, and use resources such as Zopa or Rightmove to find out what has sold/rented and for how much.
Secondly if you can visit the property, do so. You're going to tell a lot even by taking a quick tour round. Even if you can't get inside the actual property drive round the local area to note things such as quality of surrounding housing, proximity of amenities and any potential factors which might detract from its value. For example, there might a municipal waste recycling centre at the end of the road and if there is, you need to know about it! Visiting will also make you more aware of any work that is going to need doing, so you can factor this all into the financials and the timings.
And thirdly, read the legal pack. This means taking your time to go through it as closely as you can and understanding everything within it. You also need to have a solicitor read all the information so that if you are successful in your bid you can move quickly to complete your purchase. Remember, once you have put in a successful bid you can't back out of a purchase, so know what you are getting into first.
Robby has also written about how to get going in property investing, read what he has to say here
Holding your own in the auction room
Some people find the thrill of an auction room exhilarating. Others find it so frightening they can't face the idea of attending in person. If you fall into the latter category the good news is that since COVID-19 most auctions are held at least partly online in the days running up to the auction date. If you're afraid you can now easily hide behind your keyboard but still take part. Despite this, being in the room is probably the best way to really experience a property auction and could also be the clincher in terms of making sure you get the property you want.
So how do you make sure you go home as the proud new owner of a property and not as the sore loser who's missed out? Again, it comes down to preparation. Before you even enter the auction room you need to know the price you are prepared to go to for the property you want. Once this number is set, don't budge.
This can be a hard thing to achieve because often your heart takes over in the high pressure moment, but this is exactly what the auctioneer is aiming for. Your job is to refuse to be manipulated in this way. Always think with your head. Never think with your heart.
Did you know you can invest from as little as £100 in property using the Crowdstacker platform
When the hammer falls
Once the hammer has fallen and you've secured your property this is basically the same as exchanging contracts when you buy a property in the more familiar way via an estate agent.
On the day you will be required to pay a deposit which is typically 5-10% of the sale price, and you will be committing to completing the transaction with just a few weeks. To make sure you can honour this contract you need to know you have financing in place either with cash in the bank or a loan lined up.
Similarly, if you are buying to sell or rent out this is the point at which the clock starts ticking, particularly if you are borrowing money to finance the deal. Every day that goes by when you don't have an income from the property is just a cost draining your profits. To make sure you can minimise this time period you need to know exactly what your next moves are. For example, if the property you have just bought needs work then make sure you have the contractors lined up to get in and start work as soon as you can. If you need to apply for planning permission you could have already started this process if you were confident enough that you would secure the property, or more likely you will have to wait until you buy at the auction but make sure the paperwork and plans are all ready to be submitted on the same day.
If the property is basically ready to go then you could have already spoken to local agents either to list the property for resale or to rent. There's always paperwork involved in either of these processes, and jobs to do like getting photographs done. So make sure you're immediately on top of all this.
Think you might be interested in finding out more about Quanta and how to invest?