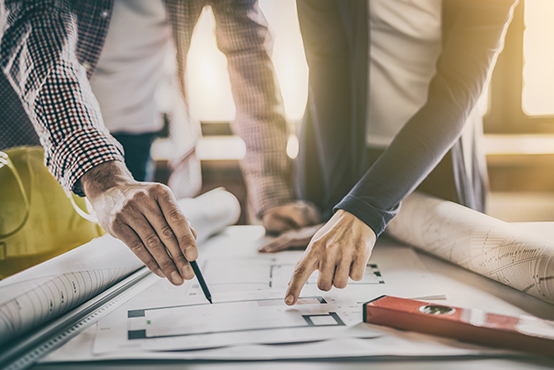 How to Get Going in Property Investing
12th July 2022
Many people dream of ditching their current job to indulge their love of property by becoming a developer or a career landlord. Few actually take the leap, either because they are unsure of their ability to make a success of it, or because they are unable to face the financial insecurity it could bring.
At a time when hard assets can look more attractive than perhaps cash savings or even stocks and shares investing, property could potentially be the right investment choice for you even if you can't change your entire career to do it full time.
Robby du Toit is the CEO of Quanta Group, a property company which is currently raising £1.5 million as a P2P investment on the Crowdstacker platform. Here he talks about what you need to consider before you can start making money out of buying and selling property.
Local, local, local
The key to being successful in both property development and investment is to have a really good grasp of the potential financial upsides. A thorough understanding of the market in which you are buying property is key to appreciating what the likely outcome is depending on whether you plan to just sell, undertake some work to redevelop the property before selling, or just to rent the property out for a time period. For most this will mean buying in an area which they are already familiar with, and this is probably going to be local to where they live or at the very least somewhere close by.
Regardless of whether you decide to start your property career in an area other than the one you live in, you still need to be asking yourself the same questions. These are generally things like 'what kind of property always sells well here regardless of what the broader market is doing?' Or 'who is my target market and what kind of property do they want?'
Think also about what the attractions and challenges are in the area where you are looking. Transport is always something buyers and renters think about, whether that's to do with easy proximity for commuters to roads or a decent train station, or, if it is about travelling locally, whether the roads are often congested and therefore less attractive to buyers.
Opportunities can be identified by looking at what people in the local area tend to want from property. Gardens and outside space, for example, soared in appeal during and after the COVID-19 Lockdowns, so if you live in an area which has close connections to areas where lots of people work and housing stock that tends to include outside space, then there is possibly potential to market this successfully to buyers.
Remember that you also need to think about change. If you are buying to sell reasonably quickly then this will be less important, but if you intend to buy-to-let for the longer term then you will want to consider what changes may occur. For example, is the area you are looking at positioned well for electric vehicles? This might sound like an odd question to ask now, but in a few years' time more people will own EVs so buyers or renters will naturally prefer property where they can easily recharge their vehicles. If the area you are buying in is mostly high rise flats or there isn't much private parking on offer, then this is going to be difficult to offer in the future.
Of course the other advantage of focusing your property career in your local area is that you will find it much easier to manage on a day-to-day basis.
Even if you plan to buy and sell very quickly, you will still need to be able to get to your property for practicalities such as meeting with sales agents or arranging and managing any work that needs to be carried out. If you intend to do more extensive building works or you are buying to rent out and therefore need to be on hand to manage the property (even if through a local agent) then being able to easily access the property will of course be more convenient.
Interested in property investing? You can invest from £100 in Quanta Loans.
How do you choose the area?
The good news is that in every part of the country there are some areas which are more popular with buyers and/or renters, than others.
Whilst this might mean that prices are also higher, it still provides a litmus test for any aspiring property investors. If you can afford to buy in a popular area then the choice is easy. If you can't, you can still use the popular area as your guide. Consider whether another area close to where most people want to live offers much of the same amenities and is therefore going to be a likely second choice. Think about what factors make the most popular area so attractive in the local market and try to find less expensive areas that can also offer similar things. It could be that the most popular area is close to a good local park, for example. In which case try to pick the area you want to invest in partly based on whether the local park is attractive and popular with residents.
Buy according to the market
Some people talk of property cycles, and these can be influenced based on local as well as national factors. If the area where you are buying has a strong plan to encourage and attract businesses, thus creating more jobs locally, then of course this will create more demand in the area. Similarly, if the local area is heavily dependent on one industry or even one business, make sure you think carefully about what might happen if that industry or business starts to fail.
Even if the property market locally to where you plan to invest looks likely to suffer a downturn, this doesn't necessarily mean you should alter your plans to get into property investing. It does mean you need to really think through your financial plans and factor in any potential risks to make sure you are making wise choices. You probably don't want to buy to sell in a market that looks likely to drop sometime soon, but you could buy-to-let in a competitively priced property because your view is for the longer term not what is happening in the short term.
Find a decent broker
Much of what you can afford to do will be dependent on the financing you can put in place.
Developing a good relationship with a broker who is prepared to work hard to find you the best solutions can be a game-changer. So don't just choose to work with the first one you speak to, but instead foster relationships with a few.
Generally speaking a property will require 25% cash with the remaining 75% of the cost provided by a mortgage. You should also factor in 5% of the cost for fees, other purchasing/selling costs and any very light works that might be needed.
Fire up excel and run a few scenarios with the numbers. Actually map out the costs and profits that could be made in a best-case scenario based on minimal costs, no delays and achieving a good sales price. If you plan to rent then map out what happens if you manage to secure tenants continuously for a very good rate. Then take the time to map out what happens in the worst case scenario. If the losses can't be supported then you need to go back and have a rethink. If the potential losses are sustainable and the likelihood is low, then you might feel confident enough to proceed.
By forcing yourself to go through this process you are more likely to be making a dispassionate and unemotional decision, rather than one based on assumptions and over confidence.
Use money to make money
Buying a property asset as one thing and turning it into another can also be very profitable, regardless of whether you plan to sell quickly or hold it to rent out.
The classic example of this is whether you can make some cost-effective changes to the number of bedrooms in a residential property. If you can increase the number bedrooms you generally increase the price. Of course you need to factor in the cost of creating the extra room to deduct this from potential gains.
What you might not think about are similar changes such as turning a property from commercial use into residential, or vice versa. Again, the local economy will be very important to making these decisions so you can identify what is likely to be the most commercially successful for you. But don't be shy of exploring options and make sure you have your creativity in play when you look at property for sale.
A re-mortgaging strategy
If you plan to hold the property for a period of time, whether that's a few months whilst you undertake development work or over a longer time period because you are renting it out, then you also need to think through a financing strategy.
The mortgage you use at the start to purchase the property might not be the best long term solution. So before you buy make sure you understand what the financing options are likely to be. For example, if you buy a one bedroom property with a mortgage, but you spend time turning it into a two bedroom property and then plan to rent it out, the mortgage you originally used might not be the best deal available for the long term. It might work well for the first few months, but as soon as that property increases in value (because of the increase in number of bedrooms) it might be that you can source a more budget friendly mortgage rate. In which case, before you buy, understand what the plan is and make sure you pick a mortgage which will give you the flexibility you will need if you can find a better deal as soon as the work is complete.
Equally, if you plan to buy a property and do very little work to it, so it is unlikely to increase in value in any meaningful way in the shorter term, then you will naturally be more interested in fixed rate mortgage deals so you can plan your finances with a little more certainty.
Exit strategy – know when you are going to sell
In a similar way it is useful to map out what your exit strategy is and how you will execute it.
So if you plan to buy and sell quickly then think through things such as whether you intend to use the same agent that you bought it through, whether you need to get new photographs done so it looks refreshed, and if you need to leave a period of time before listing it online.
If you plan to buy and hold the property for a period of time, then what will be the factors which are likely to signal that it is time to sell. Are you holding out for a particular time in your own life, perhaps when you retire? Or will it be dependent on when the property as appreciated a certain amount in value? Or are you planning to keep it until you pass away, in which case who will you be leaving it to in your will?
Ideally you will formulate a range of exit strategies based on different scenarios so that when and if the time comes to sell, then you already have a plan in place.
If you're interested to find out more about Robby's company, Quanta, and it's £1.5 million investment which is offering up to 6.8% to investors, click here.