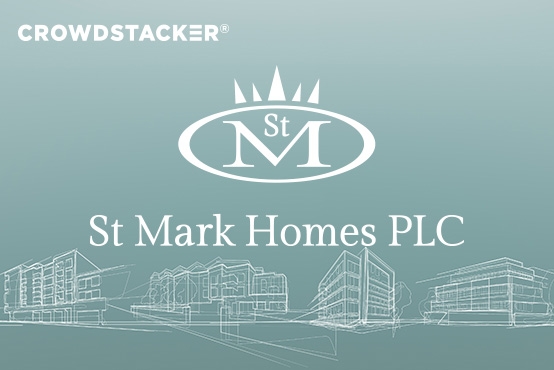 St Mark Homes increases target raise to £3m
17th November 2017
IFISA-eligible Bond proved a big hit with Crowdstacker investors
Property developer St Mark Homes made two key announcements this week:
Firstly, it plans to increase its target raise on Crowdstacker to £3m following its success in quickly achieving an initial £2m raise.
And secondly, it revealed that it plans to put the money raised so far, including funds invested via the Innovative Finance ISA towards increasing its three-year construction forecast by around 75%, for developments that will include flats as well as houses.
Initial £2m investment target was quickly reached
In September, St Mark Homes launched an Innovative Finance ISA-eligible Bond with Crowdstacker, with the aim of securing £2million investment and offering 6% gross p.a. fixed return to investors. The Bond proved popular with investors and quickly achieved its target and so it has now been extended to £3million.
The company focuses on residential and mixed use property development in London and the South East and says it is committed to providing a range of housing solutions to help meet Britain's housing shortfall.
Funds raised on the Crowdstacker platform will be used to finance more of the same types of housing developments.
St Mark Homes helps to tackle housing shortage
The UK-wide shortage of new homes supply, according to ONS figures, has only slightly increased from 2012/13. At this point the country saw the lowest level of peace time housebuilding since the 1920's. In September 2017, the number of new building sales was 21.6% lower than in September 2016.
St Mark Homes estimates that over 70% of the new homes it builds will be eligible for the Government's Help to Buy scheme.
"It's estimated around 250,000 new homes need to be built every year to meet demand," explains Barry Tansey, CEO of St Mark Homes. "And currently around three quarters of new homes built are eligible for schemes such as Help to Buy , showing just how important this type of housing stock actually is."
"Like all businesses, housebuilders and developers need working capital to fund investment in new sustainable and affordable projects. We plan to fund a significant part of our new project initiatives using innovative finance methods such as our current bond investment on Crowdstacker."
The announcement also comes ahead of predicted favourable tax changes for first time and young buyers in the Autumn 2017 Budget. And it follows hot on the heels of Theresa May's Conservative Party Conference speech detailing increased Government investment in home ownership and affordable housing.