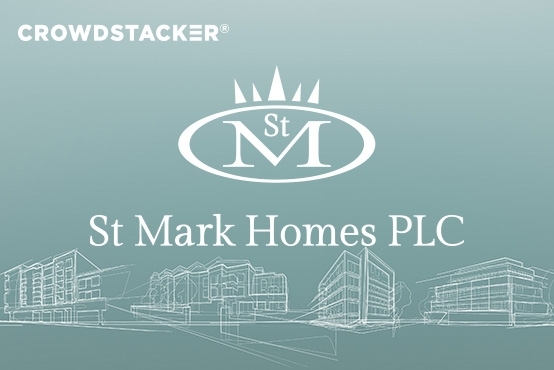 St Mark Homes Announces Financial Results for 2018
5th June 2019
St Mark Homes announces its financial results
St Mark Homes (NEX: SMAP), the housebuilder operating mainly in London and the South East of England, has announced its Final Results for the year ended 31 December 2018.
A quick review of the business
The Group continues to develop residential led projects located in London and the Southern regions of the United Kingdom. We primarily target the sub £1,000 per square foot residential sales market with a particular emphasis on developing schemes which consist of units that can be made available for sale under the £600,000 London Help to Buy limit. 
The Group typically undertakes its business within special purpose vehicles and on a joint venture/profit sharing basis with other house builders. This strategy has helped the Group to generate profits and increase distributions to shareholders in recent years. 2018 has however been difficult with customers being slower to commit to sales and an element of profit on the completed Hounslow scheme therefore deferred into 2019. The Group profit before tax for the current year amounted to £117,442 (2017:£383,738). 
Status of Capital  
The Group commenced 2018 with a capital base just over £5.87m (2017: £5.79m). We have previously set a performance target to grow that base by a minimum of 5% on opening shareholders funds per annum through organic growth.  In 2018 we achieved a pre-tax profit of 2% (2017: 6.6 %) on opening shareholders funds. 
Key Performance Indicators
The Group's long term performance target has been to generate a minimum average annual return on shareholders funds of 5%. During 2018 the annual pre-tax return on shareholders' funds was 2% (2017:  6.6%). The sales market has been challenging in 2018 and extended sales periods have impacted profit recognition in 2018. More positively sales progress has been good since the year end with Hounslow and Gwynne Road both generating profit in the first half of 2019. 
The Group also seeks protection from market downturns by committing no more than 50% of its capital to any one project and by requiring projects in which it is a stakeholder to show a minimum return on cost of 15%.  During 2018 the maximum exposure of capital to any one project was less than 40% of the Group capital.  
Project Portfolio
At present we have live joint venture projects on sites in Sutton, Hounslow, Battersea and Wembley which we anticipate will deliver profits in 2019 and 2020. As these projects are completed we will seek replacement schemes.
Completed Developments
St Margarets Waterside, Richmond, London: 
The Group has completed sale of the final two residential properties on this project. In accordance with our revenue recognition policy we have recognised profits of £35,258 (2017: £46,316) and project management fees of £nil (2017: £13,500) during 2018.
Future Developments
As capital and profits are released from the current project portfolio the Board will seek out further opportunities with similar risk profiles. The Group's schemes have largely been in the outer London Boroughs and it is intended that the Group will continue to focus on this geographic area.
Investors in St Mark Homes can see further details in their investment account dashboard.