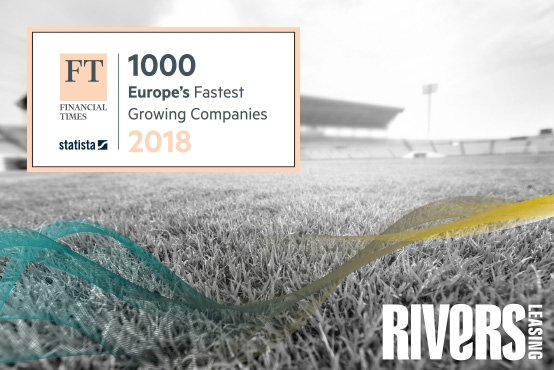 Rivers Leasing April 2018 update
24th April 2018
One of the more unique features of Crowdstacker is that businesses provide ongoing updates to investors. Rivers Leasing has provided an insightful update below about how their business is progressing:
As we enter a new financial year, it seems only right to update our investors and highlight some of the key growth goals and achievements that Rivers Leasing has seen over the last 12 months.
How Crowdstacker investors have contributed to the growth of Rivers Leasing
The growth of Rivers Leasing is largely about increasing the number of people we can loan to - scaling our model of business without compromising on the high standards and attention to detail that has got us to where we are today.
We may not have the luxury of being able to show you a shiny new office built on profits generated from your investment, but what we can share with you are the key developments that illustrate how our business has continued to move forward, just as we promised it would; through carefully planned organic growth.  
A second year featuring in the FT1000: Europe's Fastest Growing Companies 
Providing a meaningful validation of that approach, in April 2018 Rivers Leasing was named for a second year running in the Financial Times FT1000.  This year reaching number 391 in the distinguished list, the ranking identifies the 1,000 European companies with the strongest growth between the years 2013 and 2016.  
In partnership with data provider Statista, companies featured are prized for showing the innovation to drive the European economy, generate jobs and sustain competitiveness.  The accolade follows our success of the inaugural rankings in 2017, in which Rivers Leasing ranked 186th.
Appointing a second Non-Executive Director
In January 2018 the company also continued to surge forward with the appointment of Stephen Bassett, former Managing Director of Arkle Finance, as a second Non-Executive Director.  Those familiar with the wider world of asset finance may know Stephen, who brings more than 40 years of asset finance and leasing sector experience to the organisation.  
Stephen's career spans senior management and directorship roles at a number of well-known and reputable organisations, and in his last full time role before retirement he oversaw the growth of the Arkle Finance portfolio from £30m to £85m.
As our second Non-Executive Director, Stephen's appointment is in line with Rivers Leasing's policy of adopting a 'big business' approach to good corporate governance and due diligence.  This stems from our belief in the importance of being professional to the highest standards.  
This combined with the strong, long term relationships with our brokers that are so central to our way of operating, are fundamental to our mindful accountability to see all stakeholders, from investors to clients and employees, benefit from their role in the Rivers Leasing structure.
Exceeding targets and managing standards
The reason for fundraising through Crowdstacker has always been carefully considered; wishing to meet the market demand that we were finding for asset finance in order to help British SMEs to grow.  Throughout that process we have always been mindful to grow without exceeding the capacity, not only of our funds, but also of our team.  
So, while we have exceeded our lending and investment targets consistently over the last year, for the purposes of sustainability we have carefully managed our development. Within that we have brought in new members to the team across the board, from marketing to technical support as well as finance.  
We have also updated all our technology to meet with the requirements of our increased demands, and we have kept one eye firmly on the future, whilst also nurturing the existing relationships that are the cornerstone of our business.  
With those intentions in mind we are launching a new hire purchase product line by the summer, and continue to seek investment for the ongoing growth of our niche asset finance business. 
A PDF booklet version of this update is available to investors in the "My Account" section of investor's accounts.