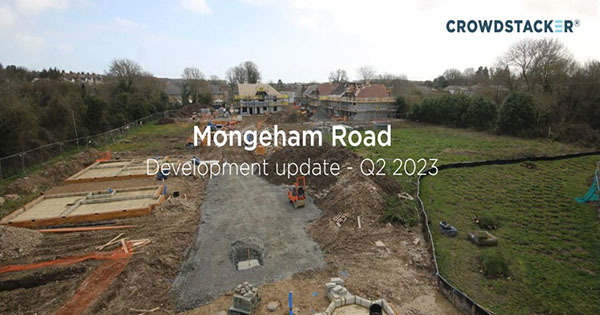 Mongeham Road houses spring up!
12th June 2023
There has been a lot of progress at the Mongeham Road site in Kent and you can see it by checking out our video here.
The project, which was part funded by Crowdstacker investors, will create 35 new houses ranging from two to four bedrooms each. Ten of these houses have now been erected and externally clad. First fix plumbing and electrics have been completed in some of these, and are nearly complete in the rest.   
By the end of May the developer had erected the timber frames for a further seven houses, and this will be followed in June by another seven. 
In June the building currently being used as the site office and facilities will be demolished to allow the footings for five more of the affordable houses to be dug.  
There is a suspected presence of reptiles in part of the site, which means the road is not yet fully built.  However, this should be resolved soon. The cold weather, which lasted longer than usual, delayed work to find the reptiles, and capture them so they can be relocated.  
The developer is working to a finish date in December 2023/January 2024. Some of the houses are already being marketed and there is a good level of interest.  
If you like the idea of investing in property development via a PDL, you can check out the latest investments we are offering on our investment page.