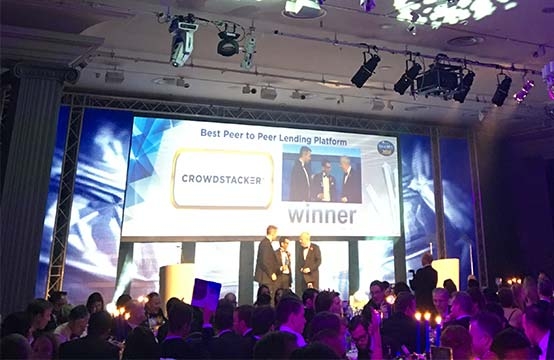 Investors crown Crowdstacker Best Peer to Peer Lending Platform
11th November 2016
Crowdstacker takes on bigger brands and wins.
In what has proven to be an award-winning year for Crowdstacker, it was announced yesterday that it has been voted Best Peer to Peer Lending Platform in 2016 by readers of Shares Magazine. (1)
The award win is something of a coup for Crowdstacker, which saw off competition from some of the biggest names in peer to peer lending, including Ratesetter and Funding Circle.
The annual awards celebrate the best in the UK's financial services industry and says voting recognises businesses that offer investors more direct and personalised interaction. Winners are said to demonstrate they "have gone above and beyond the call of duty' to engage with investors." (2)
"We are fiercely proud that we have won this award and see it as testament to the time and effort we put into making P2P a profitable and straight-forward experience for everyday investors," explains Karteek Patel, CEO of Crowdstacker.
"We've been nominated for, as well as won, a few awards this year. Two of which, including this one, have been voted for by the general public. It's great to be recognised by the industry for doing a good job, but even more gratifying when investors are giving positive feedback."
Uniquely amongst most other P2P platforms, Crowdstacker only offers opportunities to lend to larger, financially secure and stable businesses offering attractive annual returns of typically around 5-7%.
Additionally, it is one of only a handful of platforms to have been able to offer investors the option of using their annual ISA allowance to invest via an Innovative Finance ISA when this was introduced by the Government on 6th April 2016.
"We have seen a huge amount of interest in our IFISA with roughly half of all monies invested in businesses through us, coming through this tax-free wrapper."
"We also see a high instance of reinvestment, with people coming back each time we feature a new loan product. Undoubtedly, this must in part be owing to the attractive rates of interest on offer, as well as the loan package terms and conditions we impose on borrowing businesses to alleviate some of the risk for investors."
In January, Crowdstacker was recognised as the Best New Peer to Peer Provider in the Moneynet Awards 2016.(3) And in February, it was shortlisted for the Credit Today Awards as Best P2P Platform. (4) It was also runner up for the Online Personal Wealth Award for best Peer to Peer Platform 2016. (5)
(1) http://www.sharesmagazine.co.uk/awards/winners
(2) http://www.sharesmagazine.co.uk/awards/about
(3) http://www.moneynet.co.uk/moneynet-awards-2016/
(4) http://www.credittodayawards.co.uk/finalists
(5) http://www.personalwealthawards.com