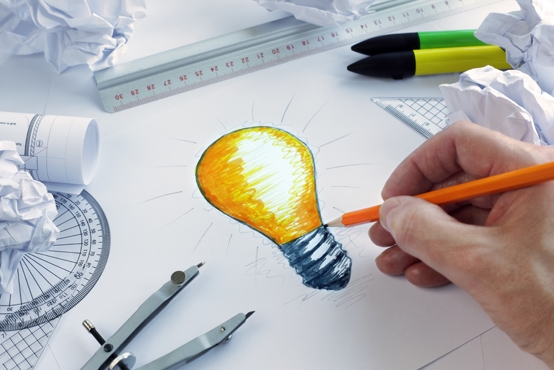 How many people does it take to change a lightbulb?
9th July 2018
Crowdstacker's generation-spanning research into the UK's saving and spending habits answers the perennial question. 
This summer we've been busy discovering more about the spending and saving habits of UK adults.  We wanted to find out how we can do more to help people invest for the future.  Some of the results we found were enlightening!
If those people sitting in the dark are Millennials, the answer is they are actually likely to pay someone else to do it for them.
We spoke to adults of all ages and then compared age groups against one another.  
Interestingly 25-34-year-olds told us they are happy to spend a large proportion of free time socialising online, but they are far less likely to use their time doing cash-saving DIY tasks or managing their money.  
1 in 10 Millennials would pay an electrician to change a lightbulb.
In fact, two-fifths of respondents in that age group said they are happy to pay a professional to wire a plug, and one in ten would call in an electrician to change a light bulb!
By contrast the amount of time young people 'invested' on social media and watching trashy TV was up to 88 hours a month.  They told us they generally spend just one hour a month looking after their money.
However, older, possibly thrifty generations, are happier to save money by doing simple household tasks themselves - almost all (98%) 45-54-year-olds change their own light bulbs and over 90% wire their own plugs.  
Perhaps tellingly, they only spend around half the time 25-34-year-olds do on social media. 
The cost of this financial apathy could be costing thousands
When quizzed further, the 25-34-year-olds also admitted that if they bothered to spend just one extra hour each week managing their money they estimated they could be £185 better off over a year.  
But this figure could actually run into thousands of pounds according to our own Crowdstacker number-crunchers, whose calculations reveal time spent reviewing and managing investments and costs can actually yield substantial sums - such as an extra £7,365 in a pension pot, and £5,120 saved by switching utility providers.*
Specifically, we estimate hundreds of pounds could be lost if savers don't check up on the cash ISA rates they are receiving and switching to a different provider offering something better,* such as our peer-to-peer ISA.  
Focus on what's important
Karteek Patel, CEO of Crowdstacker, said: "The past 10 years has seen an astonishing rise in the amount of digital information available at our fingertips - and for the generation born into this era, it can be a challenge to focus on what matters most.
"Older age groups clearly remember what it was like before the digital revolution, so perhaps have an advantage when it comes to making money related decisions.
"Twenty years ago there was simply less choice available than there is now.  Consequently, it is possible older people are a little more self-sufficient and more likely to not only undertake household tasks themselves instead of paying someone else to do it for them, but also more conscious of taking the time required to make sure they are managing their savings and investments.
"Millennials should embrace the many ways they can review and better understand their personal finances, and seek out how the digital revolution can help make their financial lives better."
Coverage from this story has appeared in newspapers such as The Evening Standard.
(Research conducted amongst 2000 UK adults by Mortar Research in June 2018)
Crowdstacker Ltd. is authorised and regulated by the Financial Conduct Authority (frn. 648742).
*Data collated and reviewed by Crowdstacker revealed the following:
£7,365 in pension losses. 
Official figures show the average UK pension fund fell by 0.1 per cent in value every year between 2001 and 2010 , while the FTSE 100 index of Britain's largest 100 companies rose 13 per cent over the same period. The average middle-aged pension pot of £53,000  could have turned into £59,890 over that period, simply by tracking the FTSE 100 index, while an average performing fund would have lost money. That's a difference of at least £7,365 for the average pension saver. 
£744 in savings losses. 
Switching banks to take advantage of better interest rates could make some people hundreds of extra pounds a year.  For example, cash ISAs are the most popular type of ISA investment . However, the difference between a good cash ISA savings rate of 1.34 per cent (28.7.18 Moneysavingexpert.com's top pick  by the Shawbrook Bank), and one at 0.93% per cent (the average cash ISA return in 2017 ), means the average UK household saving £16,400  could be earning £152.52 per year or £219.76 per year on the same savings. Over 10 years, the compound interest lost with the poorer product amounts to £744.00.  
£3,299 by not taking advantage of peer-to-peer lending.
If the average British household put just 10 per cent of its savings pot, or £1,640, into a peer-to-peer lending product targeting a 5.5 per cent annual return, and kept the rest in a better performing cash ISA, it could make £3,299 in interest over 10 years, or an additional 32% extra. 
*£5,120 by sticking with expensive utilities. 
Government figures suggest people could save up to £512  a year by switching their gas and electricity provider. 
Thousands of pounds in investment losses. 
Those of us who have invested in stocks and shares and then failed to monitor their performance may have missed out the worst. For example, the top performing FTSE 100 stock between 2002 and 2012, African focused gold mining and exploration company Randgold Resources, returned more than 2,000 per cent, while the worst-performer, Royal Bank of Scotland, lost 96 per cent of its value.   Likewise, the best performing investment fund over the last ten years has returned more than 600 per cent, while the worst performers have lost money.