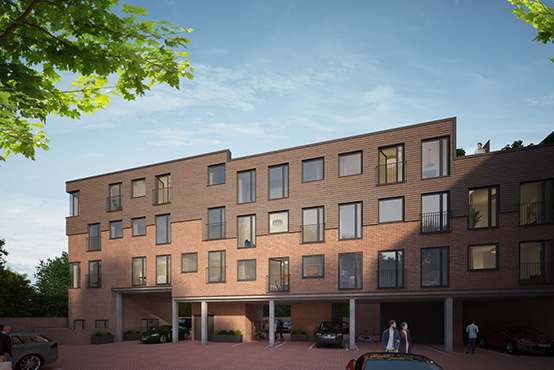 Get a better look at the Manhattan House property development in Berkshire
1st March 2022
Towards the end of 2021 Crowdstacker raised £294,000 via a Property Development Loan (PDL) to help finance the redevelopment of a disused commercial building in Crowthorne, Berkshire. The project will create fourteen one- and two-bedroom apartments which will be sold for between £195,000 and £290,500 each, generating a projected Gross Development Value of £2,902,500.
Work was already underway when the PDL was launched, and the full amount required was raised within just a few days. Here we take a look at what has been happening and how the construction is now progressing.
Brand new exterior and interior design
The site of the redevelopment of Manhattan House in Crowthorne, Berkshire has been very busy over recent weeks. The project has reached some major milestones and the new block of luxury apartments is really starting to take shape.
The roof covering is now almost complete and the final tiles are due to be installed soon, which will allow for the coping to be finished. This is one of the key design details of the final building forming an integral part of its architectural style.
Juliette balconies will enable future residents to bring the outdoors into their living rooms, regardless of which floor they live on. These are currently being installed which is also helping to slowly reveal the finished external appearance of the building.
What are Property Development Loans?
PDLs were created to help people become more involved in specific property development projects without having to pick up any power tools of their own, or invest too much time or money. They are all classed as mezzanine finance which is sometimes used by developers to bridge the gap between senior lending (most often from a bank) and part of the cost of a project.
In the case of the Manhattan House development the PDL provided an extra £294,000 to top up a loan from a senior lender which lent £1,592,314.
What's next for Manhattan House?
The next few weeks will see even more progress as the final layout and interiors of the apartments are pulled together. Marketing of each of the properties for sale is also about to begin via Romans Estate Agency. We'll take a closer look at this, plus the progress of the build in the next update.