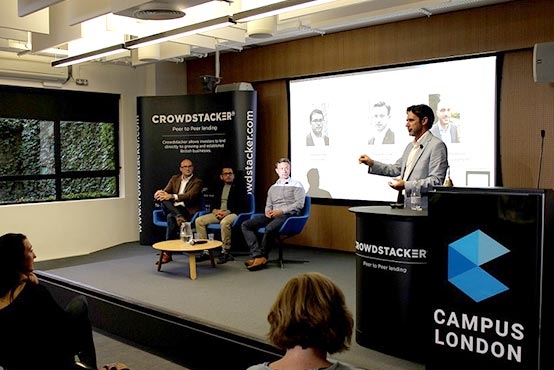 Crowdstacker talk at Google Campus London
18th July 2016
It was a full house on Thursday night at Google's Campus London where people came along for the evening to hear about the Crowdstacker journey - from a Financial Technology (FinTech) start-up to an FCA regulated Peer to Peer platform. Crowdstacker has raised over £9million for UK businesses and is one of only 3 platforms in the UK to launch the new Innovative Finance ISA in April 2016.
It was a real pleasure for the Crowdstacker team to be able to support the startup and Financial Technology community by imparting our advice and sharing stories about how to grow a successful business. "We met some really passionate audience members and afterwards we discussed more in-depth with many of them about their stories too" states Karteek Patel, Crowdstacker CEO and Co-Founder.
David Murray-Hundley, Crowdstacker's CTO (and famously known as The Grumpy Entrepreneur and former European LinkedIn Business Leader of the Year) was joined on the panel by CEO Karteek, along with Co-Founder Mark Bristow and Business Development team member Jonathan Littlewood.
Karteek comments "There was a great atmosphere on the night and we thank our lovely audience for coming along to hear about our journey, listening to some start-up wisdom and staying for drinks and networking. Many of the audience were entrepreneurs and their stories ranged from an innovative idea they want to get off the ground to the more established start-up looking for advice on how to navigate the challenging initial stages of seeking the right clients to the importance of offering outstanding customer service".
"The audience were really engaged and asked some pertinent questions about the best strategies to take a start-up idea and turn it into a reality. it is so important for us to give back. Over the last few years we have learnt a lot and its vital for the FinTech community to share ideas and knowledge. We would argue that the UK is the centre of European FinTech and it is because of all the great innovation and experience that makes our FinTech community in Britain so dynamic and wonderful".
Community hubs such as Google Campus and Level 39 help ensure Britain really stands out in this field and we believe the future will allow even more choice and options in finance for every day people to spend, save, invest and manage their money" concludes Karteek.