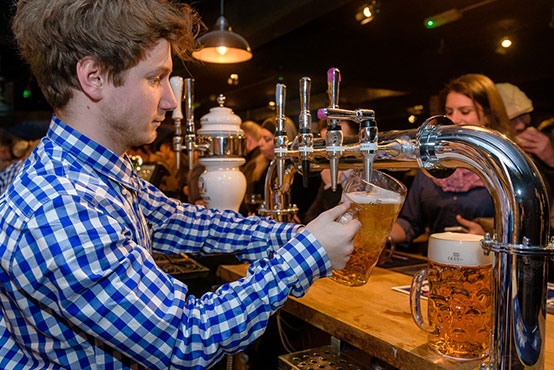 BurningNight Fires Up for a New Raise
24th March 2017
Having already exceeded its initial raise target of £3.5m BurningNight is now extending its objective to borrow a further £3.5million which will be used to fund new bars in Leeds, Cardiff, Harrogate and two further cities.
The loan will offer 7% p.a. paid quarterly over a three-year term, exactly the same as the first raise.
£3.5 Million Put To Work Creating Profits and Jobs
BurningNight initially launched its raise on Crowdstacker to fund the creation of new sites in Nottingham and Birmingham, as well as a revamp and expand its original site in Leeds.
The brand new Birmingham site hosts three of our different concept bars – a Bierkeller, Around the World in 80 Beers, and a Shooters Sports Bar. It occupies a prime position and enjoys a varied and loyal customer base. The new Nottingham site opened in March 2017 and also hosts the same branded bars, which are fast becoming a key part of the City's nightlife.
The developments so far have created nearly 150 jobs, enhanced the nightlife economy of these key cities, and created great returns on investments for those lending to BurningNight through the Crowdstacker platform.
More Investment for More Opportunity
As a pub and bar operator BurningNight's expertise lies in identifying new venue opportunities where there is great potential to create popular and therefore profitable nightlife destinations.
Whilst the first tranche of money was being put to work the management team were already hard at work locating the next potential sites in key cities. These have been identified in Leeds, Harrogate and Cardiff, as well as two further cities.
Funds are required to take advantage of these opportunities, so the raise on Crowdstacker has been extended.
"Each bar is aimed at a slightly different clientele from sports fans to professionals," explains Alan Harper, CEO of BurningNight.
"This helps ensure we have consistent and diverse revenue throughout the week at each of our premises. Our bars have enjoyed huge success and we aim to expand across further key cities around the UK.
"When we initially approached Crowdstacker it was because we wanted to choose a way of financing our expansion that would allow our existing loyal customers as well as new potential customers and investors to participate in our growth.
"It has proven to be very popular with investors, and mutually beneficial to all, so it makes sense to extend this source of funding."
Enjoy a drink on BurningNight
For those investors who lend more than £2,500 there are also additional benefits on offer including a suitcase full of beers from across the world.
And as before investors will be able to enjoy the returns from lending to BurningNight, tax free by using their Personal Savings Allowance and/or the Innovative Finance ISA.