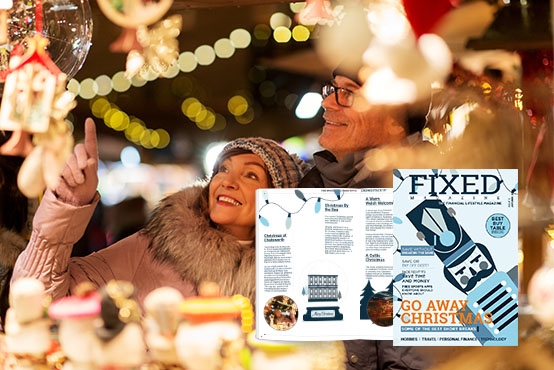 I'm not sure about you but there's something vaguely depressing about Christmas nowadays. 
Whether it's the hype starting earlier and earlier so that by the time the festive season actually comes round the sight of tinsel and holly is enough to drive you bananas, or the stress of making sure everyone enjoys themselves (willingly or not) Christmas nowadays just feels a bit, well, 'meh'.
So, ever on a quest to brighten things up a bit, we decided to take a look at some ideas for getting away from it all and recapturing some of the excitement and joy associated with the type of Christmas you see in films or on the front of Christmas cards.  And maybe Christmas markets could be the answer. 
Firstly there's shopping – which is always a plus when there are presents (and treats for yourself) to be bought. Secondly Christmas markets offer entertainment, from music to theatre, so you can literally immerse yourself in fun.  And, perhaps most interestingly, the stalls at some of the best markets are mostly run by local craftspeople, so you can get away from the mass produced stuff you can buy, eat or drink on any high street in any town.
What's not to like?
Like ideas on how to save money? Check out our article on the best Money Saving Apps.
St Nicholas Fair, York
The medieval city of York has the uncanny ability to feel a little bit Christmassy at any time of year, so on cold frosty evenings in the run up December 25th it really comes into its own.
The annual St Nicholas Fair has won awards, not only for its pure 'Yule-ness' but also for the quality of the stalls and produce on offer.  This year it runs for a full four weeks from 14th November to 22nd December, so you can choose to get an early Christmas hit before the crowds descend.
Christmas at Chatsworth
You'd have to go a long way to find a house and parkland as impressive as Chatsworth House.  From the elegant and imposing house to the stunningly laid out and planted gardens, this is surely one of the UK's finest stately homes.
As you might expect, the Chatsworth Christmas Market also lives up to these high standards.  There is an emphasis on stalls run by businesses from surrounding Derbyshire and indeed from across the North of England, as well as those from the rest of the UK.  This one also opens in mid November, but be aware it closes on 3rd December.
Do your finances need a pre-holiday workout?  Check out our tips or getting your money in shape.
Christmas By the Sea
If a coastal Christmas sounds more like your kind of thing then Padstow is well worth checking out.
Already well known as a summer destination of choice for foodies, Padstow also works hard to attract the winter crowd with a series of crowd pleasing events, of which the Padstow Christmas Festival is one.  And this has it all from the Santa Fun Run to planet friendly credentials.  Rick Stein also promises to pop up now and then too, if that floats your boat!
A Warm Welsh Welcome
A short hop from Padstow over the Bristol Channel brings you to the Christmas heart of Wales in Swansea.  This Welsh seaside town sits on one of the UK's prettiest coastlines which boasts not only the Mumbles, but Rhossili Bay and indeed the whole of the Gower.
Swansea itself offers Christmas events aplenty, and not least its bijoux Christmas Market.  It may only feature forty stalls but there's an amazing array of crafts and food/beverages on offer from hand blown glass to toffee vodka. 
Read this if you want to know how to save money on your next holiday.
A Celtic Christmas
The Scots certainly know how to celebrate Christmas, which is probably why Aberdeen boasts not just a Christmas Market but an entire Christmas Village.
The epicentre of this Celtic Christmas extravaganza is in the Marischal College Quadrangle and includes not only stalls but also an ice rink and fair ground rides.  This year's market runs from 21st November right through until 31st December, so it could be the perfect choice for a post-Christmas pre-New Year getaway.
Hark the Herald Angels Sing
Rather fittingly we finish on a Christmas Market run by the church itself, the Winchester Cathedral Christmas Market. If you're looking for an antidote to the consumerism of Christmas and reminder of what the religious festival is actually all supposed to be about, this could be the destination for you.
The Cathedral itself is something to behold at any time of the year with a wealth of stories, art and treasures to be enjoyed.  It is one of the Church of England's finest examples of medieval religious architecture, although its history actually extends as far back as the 7th Century.  And at Christmas it welcomes a host of British producers and craftspeople to set up chalets in the grounds, alongside an ice rink and food stalls. 
Such are the delights offered by this yuletide celebration it was even included as one of Europe's top eight Christmas markets by the New York Post.
So maybe this year instead of saying bah humbug it might be time to embrace the spirit of the season.
If you're interested in finding out more about saving and investing check out our new magazine 'Fixed' which has loads of tips and hints about how to save cash.