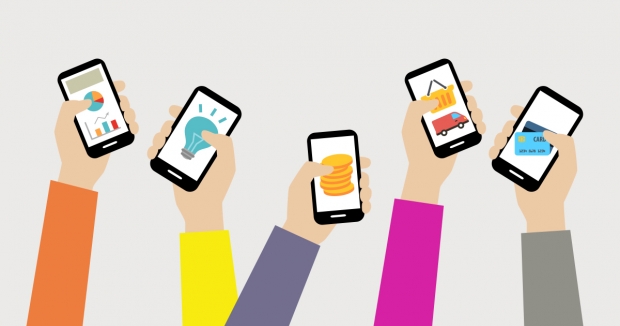 Could money saving apps work for you?
The answer to saving money could be in your pocket. Find out how you can use your phone to stash the cash.
Crowdstacker takes a look at its list of top 5 money management apps which could save you money.
What is a Money App?
Applications run on your phone enabling you to do all sorts of things from play games to manage your bank account
You can buy apps from online shops such as the Apple App store or Google Play Store – both of which are often pre-installed on your phone or tablet when you purchase them.
There are hundreds of thousands of apps available, some for free, some for one upfront payment, and some which you pay for on subscription.  And every day thousands more are released.  
So much so that it can often be daunting even logging into the store to see what is out there.
However, don't let this put you off.
There are some incredibly useful money management applications that you could use to either keep an eye on your money or enable you to be extra-careful with your spending and saving.
The advantage, of course, is that you more often than not have your mobile phone to hand when you're shopping, so you can easily make use of all the clever tools out there.
Get a complete picture from Money Dashboard
Our number one money management application that Crowdstacker would recommend is Money Dashboard.  
This enables you to get an overview of the current state of all your bank accounts, transactions and predicted financial status (based on current spending habits) in one place.  
It has several incredibly useful tools which can show you information about what you spend, where and when, all of which are displayed graphically so you can see trends and changes over time.
It is free, but it does take time to set up, and you really only get the most from it if you link all your accounts and input all the information it needs to get going.  But once you're up and running it's a breeze.
Perhaps most usefully it enables you to identify future money goals and helps you work towards them.
Manage the family finances on GoHenry
GoHenry is an award-winning app designed for parents or grandparents to help kids learn about money. 
Although this is a subscription service, we think it's one of the best Apps not least because it teaches kids about money in a way that is relevant to how finance works today.  Putting cash away into a piggy bank works to help kids visualise money and that when it's there it is there, but once it is spent it is gone.  
However, money nowadays is increasingly 'digital' so it makes sense to teach kids about money as a digital entity.
GoHenry was designed in collaboration with Visa, and it works very much like a credit card, except you can only spend what is in your account – there is no credit facility.  Essentially one adult has the account, and then any number of children can have their own accounts linked to this.
Parents 'load' up the account with as much money as they wish, and from here the children can be paid pocket money.  This could be as a regular payment, and also as one-off payments for example for birthdays or as a reward for doing something.  Discreet payments can also be made, for example, if a child needs money in an emergency it can simply be transferred in seconds using the online App.
Other people can also pay money into your child's account using a simple online tool. So, when grandparents want to spoil the children, it's easy for them to do so!
Children can also see their own 'account' in real time, on their phone or tablet, with full transactional histories.  They can even set up sub-accounts where they can regularly save towards a stated goal.
Each child has their own card which can be used in shops, online or at cash points. Parents can set limits and disable/enable payments at certain shops as required – for example a monthly limit of £20 can be set to be spent on Amazon, or £50 cash can be withdrawn at any one time.
This app is great for teaching kids how to manage money in today's cashless society.
A 'Revolut' in spending abroad
Although more of a general bank account than an App, Revolut has made it onto the list because of the savings it helps you to make when spending money abroad.
If you open an Revolut account, you can use it much as you would any current account. It also has built in budgeting tools which mean you can track spending and make savings by accruing 'spare change'.
However, it really comes into its own when you use it abroad to pay for things because it offers you the Interbank Exchange Rate.  This is the ever-fluctuating rate at which banks exchange money internationally, and importantly does not include any mark-ups (some of which can be eye wateringly hefty) which you would otherwise be paying if you used a more traditional money-exchange service.
It's worth noting that this does mean the exchange rate, whilst still lower than an exchange would offer, will potentially change from minute to minute, and on weekends small surcharges are included (typically 0.5%) so that Revolut can cover itself against any fluctuations.  
Link it to your normal bank account and you can top it up as needed meaning you can avoid going to the expensive cash point when your money runs out half way through your holiday!
Get the best Price
We all know there can be a huge amount of variation in the price you might pay for exactly the same product in different shops.  But it's not always that easy or convenient to spend the time required to shop around to find the best price.
Until now that is.
PriceSpy is an online App which allows you to compare prices across 3000 UK stores – online and offline.
Finding the best price is as simple as typing in the brand or product name that you are looking for, and it will give you a run-down of where you can buy it and for what price, within seconds.
Categories where it can search span everything from shoes to set-top boxes, and, for each item you search, for several options are offered.  It also includes deals that are currently being offered.  You can quickly navigate to the right online outlet via links it provides for each price option.  
This can be a great tool if you're out and about at the shops and just want to check you aren't paying more for something than you could be if you shopped elsewhere. And also great when you're shopping online.  Other shoppers can also leave reviews, so you can do some homework about whether it is a wise purchase before you buy.
You can even set up price alerts for items you are looking to buy or that you buy regularly to make sure you're getting the best deal possible.
What a great tool this could be for you when you're doing your Christmas shopping!
Save even more with vouchers 
If you're not already searching for vouchers as a matter of course before buying anything, you could be missing a trick.
Many online and offline retailers offer all sorts of deals regardless of whether it is a traditional 'Sale' period or not.  These can range from free postage and packaging to extra discounts.
There are a few online voucher sites you can use to identify these, but we think one of the best is VoucherCodes.
You can use this to find any current deals that are running, and if you're shopping online you only need to click on the deal to automatically re-route to the shop and add the voucher code to your basket before check-out.
Savings can be made across many high street retailers and restaurants – so don't go shopping without checking this first.  
Get Downloading to Save
These examples are just a few of the Apps that Crowdstacker thinks could work well for everyone on a day-to-day basis to help manage their finances.
As you may already know, we are currently working on some of our own platform updates to make our own site even easier to use and to help you manage your investments. So, watch out for more news from us in the coming months about our own Crowdstacker App which aims to help making investing easier, less time consuming and ultimately more rewarding. When investing, capital is at risk.