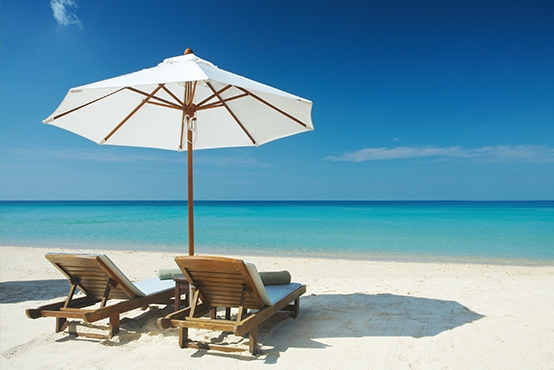 Get your investments 'beach ready'
Don't panic, this isn't yet another article about eating kale and drinking matcha tea to get your body ready for public scrutiny on the beach this summer. But it is about getting your investments in shape. Thankfully it involves no self-denial of treats, and absolutely no physical exertion.
So settle yourself in a comfortable chair, put your feet up, open a family size bar of chocolate with a double latte, and follow our version of the 5:2 diet to take back control of your money.
Do you know where your money is taking you?
Just as with any effective diet, it's important to have a clear understanding of what you want to achieve with your money before you can really get things in order.
This is something very personal to you and your circumstances, and should include reference to your ambitions and life goals. For example, are you planning to retire soon? Or are you thinking about changing career which might involve a temporary reduction in income? Are you thinking about taking up a new hobby which might involve new expenses? Or do you have your sights set on a new car or more expensive new house?
If you are able to think not only about the short term, but also the medium and longer term, all the better. It doesn't matter if you are not completely accurate, and as we all know life doesn't always go to plan anyway, but a basic grasp of what you think might happen and when is a good starting place.
Once you have identified what you want to happen, and when, then you need to make some calculations. So, for example, if you want to upgrade your house, then you'll need to understand how much this is likely to cost you, what impact it will have on your mortgage and monthly outgoings, and how much more cash you are likely to need.
Make this summer the right time to mix things up a bit
A balanced portfolio includes a range of investment types with a range of risk profiles.
Working out your risk profile is as personal to you as your financial plans. But it is relatively simple to figure out how much risk you can tolerate.
Your financial plan from stage one will be important for this because it enables you to understand exactly what risks you can take. For example, if you are anticipating an expensive life change such as moving to a larger house you will need to think about the need to make your money work harder for you so you can build up a larger deposit, as well as the necessity of reducing the risk of losing any of the cash reserves you already have. If you are planning a long overseas trip you might be willing to take slightly more risk with your money knowing that potentially higher rewards would be helpful, but if the worst happened the consequences could be dealt with easily by simply scaling back your plans.
Most people do pay at least some attention to the risk-reward ratio when investing, but remember your tolerance for risk changes as your life changes. So instead of just looking at one investment at a time, take a holistic view of all your investments on a regular basis and make adjustments as necessary to your present circumstances and evolving plans.
Take time to take stock
Research we conducted showed very clearly that people tend to spend very little time looking and altering their investments. For example nearly two in five said they had never changed their pension provider, and over a third had never changed their stocks and shares investments.
However, just as the country's economic performance alters over time, so does the way investments perform.
Take for example cash ISAs. Much has been written in recent months about the effect of inflation on the real returns offered by cash ISAs. With inflation running at around 2.5% in March 2018(1) and typical cash ISA returns running at around 1%(2), the deficit means that holding a cash ISA could actually mean savers are losing money.
A quick review of the performance of your current investments in recent years can reveal where there is potential to make changes and you could become a better investor.
Do this in conjunction with your financial goals alongside your adjusted risk profile, and you should be able to clearly see where, and what type of change, is required.
Time to try something new
The last part of the 5:2 investment 'diet' involves potentially stepping out of your comfort zone.
This is about trying something new or looking around for something different.
A plethora of alternative investment options, such as P2P lending, have launched in recent years which might be worth a look - this includes all the investments featured on the Crowdstacker platform. And the good news is that many of these are eligible to be held tax efficiently as part of an Innovative Finance ISA.
And it might be worth looking at more traditional investments too. Remember, as your financial requirements have changed over the years a decision you made then years ago about not investing in the stock market may no longer be valid.
Using all the information you have gathered from the first steps of the process, review what you need to achieve with your money and the wide range of different investment options available which might help you reach your goals.
(1) https://tradingeconomics.com/united-kingdom/inflation-cpi
(2) https://www.moneysupermarket.com/savings/cash-isas/
To read similar personal finance articles download your copy of Fixed magazine, Crowdstacker's new, free financial lifestyle magazine, featuring the latest in travel, hobbies, money saving tips and more.