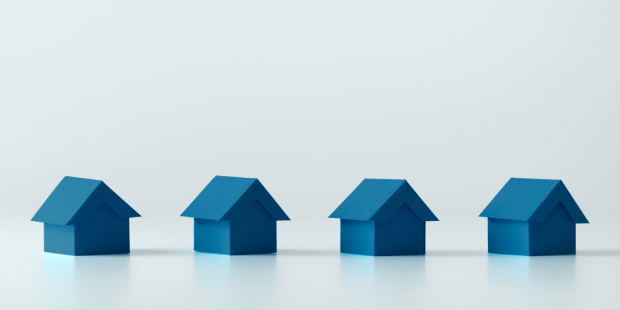 Property Investment in 2021
18th January 2021
Crowdstacker is moving into 2021 with new investments lined up in the property sector. A property loan was the very first product to feature on our platform when we launched in 2015, and since then we have grown our portfolio to include both direct investment with developers as well lending to property finance companies. This offering will be expanded this year with the launch of a range of new products enabling investors to pick specific property developments.
Property is a consistently popular area for investors who are looking for investments backed by hard assets with realisable value. This stands to reason during recent years when the property market has been strong, but we also believe property will be an attractive investment as we move further into the decade. We are constantly reviewing and analysing the markets in which the businesses we work with are operating, and here we pull together some of the headline thoughts from key industry commentators. Karteek Patel, CEO of Crowdstacker, January 2021.
Property market outlook
2020 was a surprising year for anyone involved in property investment. First the shock of the pandemic and Lockdown 1.0 created a huge market dip driven of course by the fact the world came to a standstill in the Spring. This was followed by a few tense months where everyone had greater concerns on their minds other than buying or selling houses. To everyone's astonishment, however, as soon as restrictions began to lift the property market sprang back into life seemingly without missing a beat. So much so that house prices actually rose by a whopping 6.6% by the end of the year, according to data from Rightmove.
The New Year always sees the release of annual market predictions from most of the big players, from real estate agents to developers, as well as industry commentators. Normally there is a good deal of synergy between reports. Recent years have been harder to call with global as well as national uncertainties coming into play ,and 2021 it seems is no exception. However, reading between the lines of the various commentaries (we consulted Savills, Rightmove and Property Reporter, to name but a few) most seem to agree that the pandemic may have temporarily upset the apple cart but conversely it may well have restabilised the medium to longer term.
Whilst most commentators seem to be expecting some early uncertainty in the first few months of 2021, Rightmove is predicting overall market growth of 4% in 2021. Others' predictions are slightly lower and some are even negative (Halifax predicts drops of 2-5%) but importantly most remain optimistic for the longer term health of the market.
When taking into account the unexpectedly sharp price increases seen in 2021, a property market that is making positive gains, however small, or even remaining purely stable would still be good news for the average property investor if they have invested at the right time and at the right price. Government policy has been focused on supplying housing for pent up demand for many years but this has been recently refocused and reasserted with all indications suggesting there will continue to be a good deal of support for the property development industry.
Buy, sell or hold?
One of the key themes emerging from many quarters is that build-to-rent looks set to be a healthy space to occupy. Developers are banking on increasing demands from landlords for property that offers more space and access to the outside – whether that's a garden, close proximity to parks, or easy transport links to the countryside. Houses and apartments offering enough square footage to attract families and the over 40's buyers are predicted to be in strong demand.
Anyone looking to invest now or in the near future should be considering what boxes can be ticked by the development they are interested in, as well as the strength of demand in the local area with an eye to deciding if it will not only appeal to owner-residents, but also to landlords.
Another interesting point to consider, which Savills explores at some depth in its report, is the attractiveness of commercial space and in particular potential increases in demand for specific types of commercial space (think warehousing to cope with the general public's deepening love affair with home delivery services) and even re-development of spaces that may now no longer be required. One joke circulating on Twitter depicting an out-of-town chain restaurant space up for sale for residential conversion may not be so far from the truth! Investors who can think outside the box could see some compelling opportunities in the coming months.
In terms of selling property investors already hold, this has to be considered on a case-by-case basis taking into account housing supply, local prices and buyer profiles. The stamp duty holiday is still in force at the time of writing with its resulting positive impact on sales. Similarly indications are that working in an office will never be the same again with one study (amongst many others) indicating that the majority of workers don't want to return to the office full time. Interestingly there is also a lot of interest amongst workers for keeping an office base even if only used part time, suggesting we are all envisaging a much more fluid relationship between work and home. Logically this suggests interest in moving house is set to remain strong as people readjust their living conditions to suit their new found preferences. And in turn opportunities to sell should remain buoyant.
Property – still a good asset to hold?
The property market has been healthy for so many years there is a temptation to lose nerve. However, it will be interesting to see over the coming months and years whether the turmoil we've all been experiencing in recent years has actually strengthened the Great British love affair with property. At a time when home has become even more important to many of us and the green shoots of economic recovery which are bound to emerge sooner or later, with careful consideration and local research, property could still be an attractive asset class for a well-balanced investment portfolio.
As with any investing, your capital is at risk when you lend to businesses and past performance is not an indicator of future performance. Tax treatment depends on individual circumstances and may be subject to change in the future.