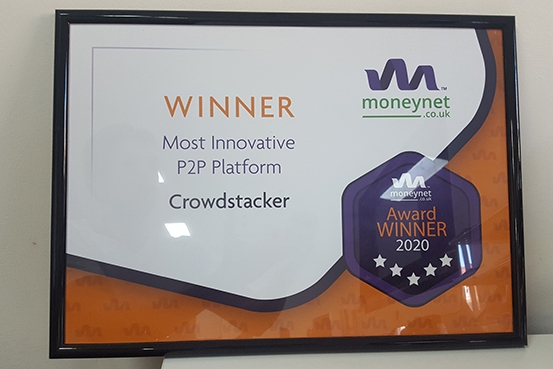 Crowdstacker bags Most Innovative P2P Platform Award
14th January 2020
The results of the 10th annual Moneynet Personal Finance Awards were announced this month and Crowdstacker bagged Most Innovative P2P Platform.
Each year the awards seek to identify the top personal finance providers and products from over the previous twelve months in a range of categories.
Moneynet has followed P2P lending closely since it became popular at the start of the last decade.  It includes a variety of awards in its annual gong hand-outs which are specifically focused on the alternative investment sector.
This isn't the only award Crowdstacker has won recently.  Read more about our awards collection.
Innovating in the P2P sector
When receiving the award Crowdstacker was congratulated on its £60million total raised to help British businesses across a spectrum of industries and sectors.  Indeed Crowdstacker has featured businesses as diverse as agricultural technology and health & social care, as well as more well-trodden sectors such as P2P investments in property development.
Speaking on behalf of the Crowdstacker team, Karteek Patel, CEO and co-founder of the platform said:  "The previous 12 months have been solid for us in terms of maintaining funding lines for some really interesting British businesses which need financial support.
Want to find out more about how Crowdstacker supports British businesses?  Read here.
"Our investors are still able to access investments offering good quality returns of around 5-6%.  But what we love most is the interest our investors show in the work being done by the businesses we raise money for.  We try to keep information flowing as regularly as possible so investors can see how their money is being utilised.
"This Moneynet award will take pride of place on our Awards shelf!"
You can find out about all the winners at the Moneynet Awards website.