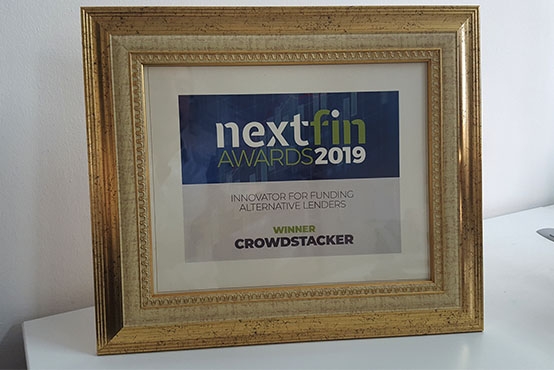 Crowdstacker wins Nextfin Award for Funding Alternative Lenders Innovation
21st November 2019
Crowdstacker's work with its specialist lending clients has been recognised with an award for Innovator for Funding Alternative Lenders by Nextfin, a P2P comparison site.
Nextfin Awards are given to those businesses recognised for their achievement and contribution to the UK alternative finance market. Nextfin itself is an aggregation and comparison site which aims to be the global platform for accessing and assessing alternative investment opportunities. 
Innovation in Alternative Lending
Crowdstacker has worked with various alternative lenders over the past few years including Clearwell Capital which supports the important mid-size property development industry. As well as Prime which specialises in lending to agricultural, horticultural and rural small businesses.   
Access to alternative finance is an important source of funding for businesses across a variety of sectors to ensure they are able to fund projects which are beneficial in a number of ways – whether it's for competitive advantage or issue-based such as creating green energy.
Crowdstacker is able to offer investment opportunities such as bonds and P2P investments.  These offer investors good rates of return, and represent a reliable source of capital for clients.
Recognition for Crowdstacker's work is always welcome
Karteek Patel, CEO of Crowdstacker, commented: "Awards, such as this one from Nextfin, are a wonderful way to recognise the on-the-ground impact created by our team's efforts to create positive opportunities to both investors and clients."