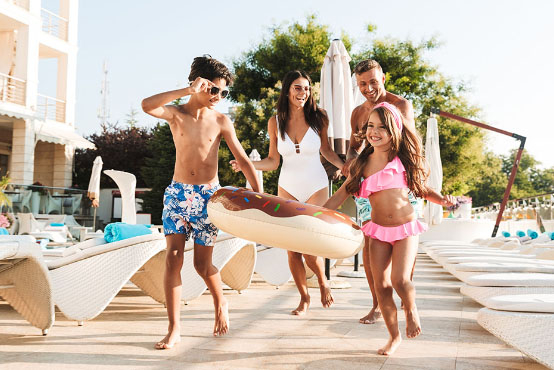 Don't Let COVID Ruin Your Holiday
Recent research by holiday firm Hoseasons suggests that so-called 'staycations' will remain hugely popular in 2022, but a lot of people are also looking forward to travelling abroad. Whether that's the first time they will have left these shores since the pandemic began, or even if they have already managed to grab two weeks in the sun between lockdowns and stringent restrictions, the signs are that overseas travel will be high on many people's to-do lists in the coming months.
Despite this there is still a good deal of uncertainty around what precautions and practical steps need to be taken to ensure travelling to another country is easy and stress-free.  Measures demanded by individual countries, as well as those required by our own Government when returning from holiday, appear to still be subject to change and there is often little or no notice provided when this happens.
So, if you're planning on travelling abroad soon what are the key factors you need to consider, and where can you go for up-to-date, reliable advice?
Take a look at our guide to snapping up bargains for cool days out and activities with your friends and family.
Travel restrictions are the law
Travel restrictions imposed by most Governments around the world, including our own, are legally enforceable. Even notwithstanding the threat of fines (or potentially even imprisonment in some countries) for not following the rules, the hassle factor of not complying, including refusal of entry, lengthy delays and unforeseen expenses, means that understanding what you have to do before, during and after your holiday is essential. Given the current COVID situation, this looks likely to remain the case for the foreseeable future.
The best place to start to find out what you need to do is the UK Government website, whilst remembering that each country (England, Wales, Northern Ireland and Scotland) might have slightly different rules and requirements.  So be sure to check based on where you are travelling from and returning to. All current and relevant information can be viewed on the central Government COVID site at www.gov.uk/coronavirus, simply select on the homepage which country you reside in so you can see what you need to do.
Advice is subject to change at short notice so you'll need to check at the time, or at least well in advance, of your holiday. Plus you need to keep on checking as the situation develops, such as 2-4 weeks before you leave, and then again a few days before departure to make sure you are fully aware of the latest rules. For example, you need to check exactly what type of tests you are required to take before you travel, whilst you are there, and upon your return, and how you can evidence the result of these to the relevant authorities. 
Perhaps most importantly you'll want to be aware of what measures are in place at your destination and this is best done before you book to make sure there are no nasty surprises such as enforced quarantine from the day you arrive. The same UK Government website enables you to search all destinations by name to make this very simple and to minimise the potential for confusion. Fortunately a lot of extra useful COVID information is provided for each country, but also in terms of what standard of medical facilities and care are available at your destination, and how you can access them, just in case. 
Similarly your tour operator or travel agent, if you are using one, should be able to help you with up to date information on what you need to do.  Be sure to budget for tests, which can be expensive, and make sure you understand where, when and how you can access them. Ideally all of these will all be prearranged and booked in advance so there's little chance of being caught out.
Check out these easy ways to save money today!
The COVID Vaccination Pass
Guidance for use of vaccination passes is different depending on where it the Pass has been issued (England, Wales, Northern Ireland or Scotland) and where you are going.  So be sure to check the right information relevant to you. If you are over 12yrs of age and vaccinated in Scotland, for example, you will use the NHS Scotland COVID Status App to get a copy of your Pass. If you are over 16yrs of age in England or Wales you will use the NHS website (or standard NHS app on a smartphone).  There is currently no Vaccination pass available for 12-15yr olds vaccinated in England, so this could be an issue in your destination country. Be sure to check what COVID passes are required or otherwise you might find yourselves unable take your kids to visit attractions or eat out in restaurants whilst you are away.
If you are not a Smart phone or internet user, in all four countries in the UK it is possible to get a COVID vaccination status letter by request from the NHS.
In all instances the 'pass' element of the COVID Vaccination Pass will be proven by the provision of a QR code which can be presented in your destination country as needed.  Be sure to check well in advance, as well as just before you travel to make sure you have the most up-to-date information about your vaccination pass status.  For example, a downloaded version of your NHS vaccine pass always has an expiry date. So you need to keep updating it before you go or whilst you are away.  Also make sure the name on your NHS COVID pass exactly matches your name on your passport. If it doesn't you will need to ask your GP surgery to change it, and this can take several weeks.
What do you need to know about insurance?
The first point to note about travel insurance is that you need it, and some countries will require evidence that you have insurance cover before they allow you to travel there.  Now is not the time to be winging it and hoping nothing goes wrong.
Insurers are all offering variable levels of coverage so choose the best cover you can afford. Look for policies that will reimburse you for last minute cancellation in events such as contracting COVID and therefore not being allowed to travel, as well as if your destination country is suddenly put on the red list or if another Lockdown is enforced. Similarly you need to make sure that, should the worst happen and you contract COVID whilst you are away, you have sufficient cover to pay for necessities from the simple ones such as extended accommodation costs whilst you self-isolate, to the more costly and complex such as medical evacuation to a suitable hospital (which, depending on your holiday destination, may even be in another country) and everything in between.
The Government website is again a great source of information for insurance requirements.
Travel in a COVID World
COVID has now become part of everyday life for everybody, and the knock-on effects this has on travel are very much part of the 'new normal'.  It's certainly added expense and hassle to the idea of getting away from it all and exploring the world. The good news is that you can still have a great holiday, making wonderful memories and getting away from real life for a bit. Just make sure you know what the rules are and stick to them.
No need to ditch all the habits acquired during Lockdown.  These home delivered alcohol services could make a night in all the more special.