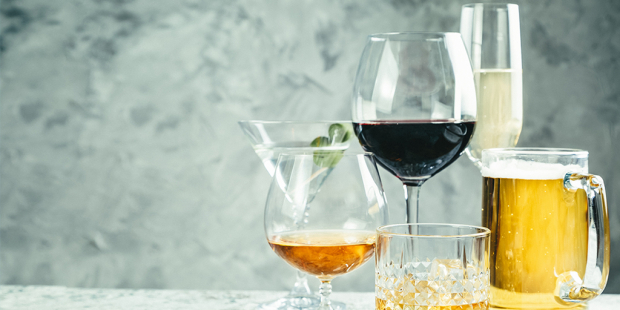 Bottoms Up! Enjoy a Lockdown tipple
Some of the best British artisan alcohols delivered direct to your door
Pubs and restaurants have been shut for weeks and there are rumours their doors may be closed until early summer. The reality of enjoying a cold glass of beer whilst the sun beats down on your face or a long G&T before a leisurely dinner may be a fair way off, but there are still plenty of options for enjoying some of the best drinks Britain has to offer.
We thought we'd go off the beaten track to have a look at a few smaller beer, wine and spirit producers from the around the UK, all of whom offer home delivery.



The best beer money can buy
We've been drinking beer in Britain since the Neolithic age according to the British Beer and Pub Association, and there was a time when most homes, farms and taverns would have brewed their own. So whilst artisan breweries may seem like a new fad, they are in fact just returning to a tradition that goes back centuries.
If you find yourselves wandering the streets of East London (post Lockdown obviously) you're sure to bump into more than a few craft and artisan beer producers, many with a convenient drinking hole attached. One of the best is the 40ft Brewery in East Dalston, so called because it was set up, and indeed still resides, in a forty foot container.
The site has extended since the early days, as have the beers on offer, so now you can enjoy not only lagers but also pale ales including IPAs, and stouts. They are delivering during Lockdown 3.0 with everything being sent from their site on Wednesdays to be delivered around the UK.

Gin and It!
The beaches of Suffolk don't immediately scream gin, but small scale producer Fishers Gin chose the beautiful coastal town of Aldeburgh to set up their distillery, and now supplies a small selection of gins which are available to buy over the internet.
The brand focuses strongly on the fishing history of the area (hence the name) and uses locally sourced botanicals and ingredients, including those foraged from the surrounding sale marshes, beaches and fields.
So whether you like a G&T, Gin Fizz or a classic martini, it might be fun to try something a bit different.
If apples are the noblest fruit is cider the noblest drink?
Anyone who's spent time in the West Country will tell you there have been fantastic local cider producers there for generations, some of whose concoctions are capable of blowing your head off. For something perhaps a little less 'dangerous' we wanted to review the wonderful ciders from Fine and Foster but unfortunately they do not directly supply the general public.
However their fare is available from The Fine Cider Company alongside a wide range of other British and European producers (including a very interesting looking one from Sweden).
Our advice would be to get a lovely bottle of Fine and Foster's Huxham 2019 and scoff it down with some cheese and cured hams. If that doesn't immediately transport you to the sun drenched rolling hills of Somerset we'll eat our straw hats.
Cook with wine (you can even add it to the food!)
Intrepid wine drinkers have been savouring English wines for some time now with some of the best hailing from the Garden of England otherwise known as Kent. Chartham Vineyard near Canterbury was established just a few years ago by a husband and wife team after they got wind that French champagne producers were eyeing up nearby land to establish new vineyards.
In the space of just a few years the family run business offers both red and white, as well as two sparkling wines. They are also delivering UK-wide at the moment with free delivery for orders of over £100.
With all these wonderful home grown choices on offer there's plenty to be getting on with until life returns to normal.