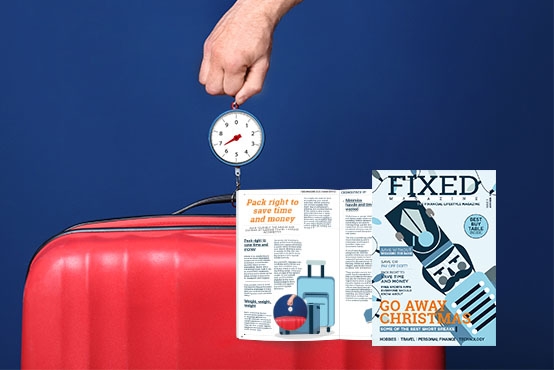 Pack right to save time and money
Whilst it is comforting to know airlines implement enhanced security checks nowadays, it still means an extra layer of time consuming hassle when travelling by air.  And it can be financially expensive too if you don't abide by the rules or have to pay extra to transport your luggage.
Here we take a look at some top tips from frequent travellers and airline employees to make sure you minimise the risks of incurring extra costs and extra delays.
Read this if you want to be a better investor.
Weight, weight, weight
Each airline has its own specifications when it comes to baggage allowances.  And it's not just variances in weight allowance it can also mean limits on dimensions.  You can find a really helpful baggage allowance guide for most airlines here.
Obviously you're going to check at the time of booking what your luggage allowance is, but it's tricky to know what your typical packing is going to require.  So the only way round this is to get to know the weight of your typical holiday packing.  Buy yourself a luggage scale (available easily online) and next time you pack your suitcases make a note of how much they weigh.  Once you have an idea of the general weight of your packed case you'll be better prepared at the ticket booking stage to know whether you need to buy extra luggage allowance.
You might also want to look at upgrading your actual suitcases.  Whilst splashing out on new luggage may seem like an unnecessary expense and counterintuitive if you want to save money, you could find that it helps save you from over weight penalties. Modern luggage is potentially much lighter than your trusty old suitcase and if your bag is heavy to start with it might be costing you to use it.
Are you making the most of your tax efficient savings options?  Find out about the Personal Savings Allowance here.
Minimise hassle and time wasted
Whilst time-is-money might not always apply when you're travelling, there's definitely something to be said for making things quicker and hassle free.  So our next tips are about what you can do to save yourself disruption and stress.
The first is something often recommended by airline employees and frequent travellers: keep your documents handy. 
A lot of hand luggage is designed with external pockets where you can keep things easily to hand instead of having to rummage around in the main body of the bag.  Whilst not pretty or elegant, practicality should probably take precedence.
These pockets are not just useful for documentation that you'll need in the airport, but also for the items you might have to show to airport security.  Spare yourself the blushes of having a security officer searching through your personal belongings in front of everyone by putting anything you think might need to be verified (for example your make up bag) in the external pockets.
Similarly, save yourself time and stress in the event of losing your important documents by photographing them and emailing yourself a copy.  If you have evidence of tickets or a facsimile of your passport, these can be incredibly useful when sourcing news ones in the event of loss or theft.
And don't forget to dress cleverly.  You know you're going to go through a metal detector, so don't wear lots of jewellery, don't wear a belt with a large metal buckle, and choose something other than those boots with metal trimmings. 
The last bit of advice is something often overlooked but can mean the difference between your luggage turning up at your destination and it turning up on the other side of the world.  Airport technology relies on the barcodes and numbers on stickers and tags issued and fixed at check-in to identify who owns the bags and where they are supposed to be going.  Whilst keeping stickers on your cases can be a fun way of logging where you've been, it can cause confusion and ultimately prevent baggage handling from working correctly.
So save yourself the hassle and expense of lost luggage by taking any old stickers off before you travel.
Interested to know how you can safeguard your (grand)children's finances as well as the planet?  Read more here.
If you're interested in finding out more about saving and investing check out our new magazine 'Fixed' which has loads of tips and hints about how to save cash.