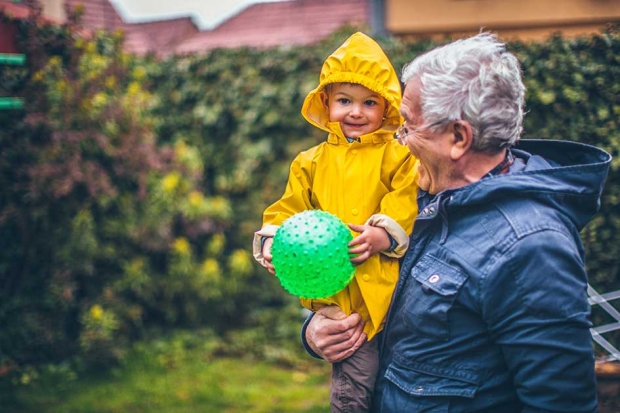 Saving for your grandchildren
By our guest writer, personal finance journalist, Andrew Hagger
Like many proud grandparents up and down the country, the arrival of your grandchildren has probably had a massive yet positive impact on your life.

You've no doubt had to move those cherished ornaments out of harm's way and wiped away sticky finger-marks a dozen times every time they visit, but you wouldn't have it any other way and will do anything to make their little faces light up.
Aside from looking after the immediate needs (and there are many!) of your grandchildren, have you given any thought about how you may be able help them financially later in life?
With house prices near an all-time high and the now eye watering cost of going to university, the toddlers of today will need every little bit of help they can get when they reach their late teens and early twenties.
Whether you end up helping them take that first step on the housing ladder or being able to afford a little run-around so they can get to college or work without relying on public transport, I'm sure they'll be eternally grateful.

There are no hard and fast rules about how much you should save and what the best way to go about it is, however putting something affordable aside on a regular basis, whether it's weekly or monthly, is a good habit to start.
It's not about going short yourself, but if you are in a position to save a little each month from when the grandchildren are young, it will make a big difference in years to come.
As for savings options, there are a range of choices from a simple bank or building society savings account or tax free ISA through to stocks and shares, premium savings bonds or peer to peer lending.
Whatever savings vehicle you opt for, you may be surprised how significant your nest egg could become over an 18 or 20 year period.

Let's look at how this might work in practice over an 18 year period. For example, if you managed to put aside £40 per month in a relatively safe but low reward savings account, with a typical interest rate of 1.5%, you can build your savings up to £9,910. Or you could choose something that carries an element of risk but offers a higher rate of return, such as lending money to businesses through a P2P platform for a 6% return, which at a rate of 6% could net you £15,310.
Additionally, from April 2016 it will be easier to avoid having to pay tax on your savings interest. Currently you can get your interest tax free if you save in an Individual Savings Account (ISA), however from next year every person will also have a personal savings allowance whereby you can earn £1000 interest tax free if you're a basic rate tax payer or £500 if you pay 40% tax.
There's no doubt that the cost of living is going to be challenging enough by the time your grandchildren reach adulthood, but your nest egg could go a long way to soften the blow and give them a real head start.
If you would like us to contact you with more guest articles and information please register here.