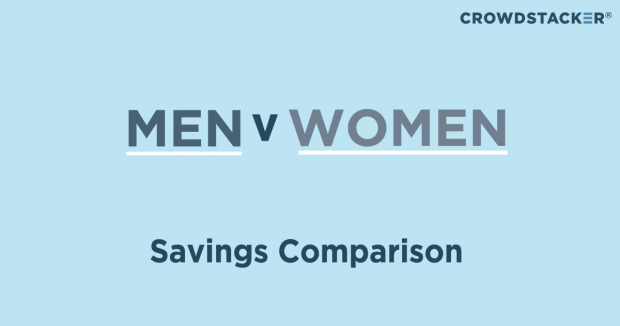 Do women know something men don't about how to save money?
Women still manage to save as much money as men despite having a lot less disposable income according to Crowdstacker research.
We've taken data from an in-depth review of the financial habits of people in the UK and crunched some numbers to reveal whilst there is a stark contrast between how much money men and women have available at the end of the month to save or invest, women still keep pace with men in terms of what they put aside for a rainy day.
We took a closer look at rainy day funds, find out more here.
Women earn less but this doesn't stop them saving just as much
Just a third (34%) of women questioned in the study say they earn around, or more than, the national average income of £27,560 per year, compared to half (56%) of men.
On average, men have £150 more available each month after essentials have been paid for.
But despite this shortfall in money many women are still able to budget enough cash to save nearly as much as men in savings products such as cash ISAs or savings accounts.
35% of men and 39% of women have savings of up to £5000. Whilst 32% of men and 23% of women have more than £20,000.
If you're interested in finding out more about saving and investing check out our new magazine 'Fixed' which has loads of tips and hints about how to save cash.
Always check you're receiving a good return on your savings
The data is taken from a large study carried out by Crowdstacker and YouGov, focusing on how well people are able to manage their cash savings to ensure they are consistently receiving a good return. 2,000 naturally representative UK residents who hold savings and more than £125 per month discretionary income were questioned.
"Women earn less but are still striving to put money aside into savings," explains Karteek Patel, CEO of Crowdstacker.
"Research, including our own, mostly shows there are still fewer women than men investing, and reasons given are often around a lack of confidence. But it seems women are using their money to save.
"Importantly this is against a back-drop of rising living costs, the impact of the gender pay gap, and the pressures of holding down jobs whilst many are also the primary care-givers for families.
"Diversifying how you use your money in a savings and investment portfolio is an imperative. And saving should take precedence over investing if you only have limited funds available. So in this respect women are doing things exactly by the book.
"Cash ISAs and the Personal Savings Allowance are excellent ways to make money from savings without paying any tax on these earnings. Plus they come with the added benefit of being covered up to a value of £85,000 by the Financial Services Compensation Scheme."
The full study is due to be published later in 2019.
In the meantime, check out our men vs women savings comparison video here.