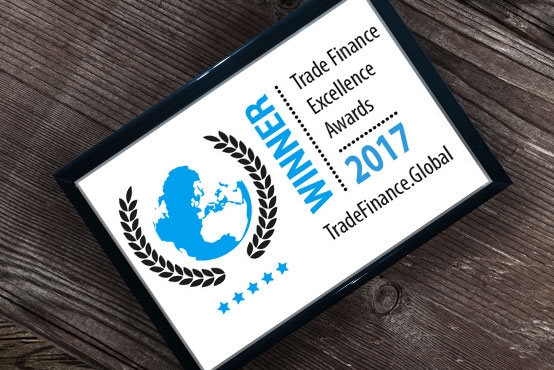 Crowdstacker Wins Two Industry Awards in January 2017
17th January 2017
The New Year starts with a bang as we pick up Best Innovative Finance Provider in the Moneynet Awards and Best Alternative Lender 2017 from Trade Finance Global.
The prospect of Crowdstacker sticking to its New Year's Resolution to have a dry January seem pretty dim this week with not one but two award successes which need to be celebrated.
We have once again been selected by the MoneyNet Awards to win 'Best Innovative Finance Provider of the year'.
Whilst debt finance specialists, Trade Finance Global, has named us Best Alternative Lender 2017.
Crowdstacker secures industry recognition for the quality of its products
Selection to win both awards was the result of in-depth analysis of our product offering by both organisations. In particular Trade Finance Global's awards programme seeks to recognise outstanding companies contributing to the growth of international trade. * Whilst Moneynet singles out the top providers of products and services for consumer investors.**
Speaking about the award wins, CEO of Crowdstacker, Karteek Patel said: "What a fabulous start to 2017. Last year was already very significant for us, so these wins are hopefully a good indication that this year will be equally as successful.
"We were one of the first platforms to secure full FCA authorization in 2015 which meant we were also one of the first to launch an Innovative Finance ISA when they started in April 2016."***
"The result has been a significant uptake of this tax-free investment wrapper, with current ISA investment of around £1m a month."
"And we also broke the UK record just days into the New Year when we announced the UKs largest single crowdfunded raise of over £12m for Amicus plc, one of our most popular loans."
"As always securing the approbation from the finance industry is one of the best indications that you're doing something right. And the team is dedicated this year to continuing the good work and continuing to innovate to bring consumer investor and business friendly financial investments to the market."

*https://www.tradefinanceglobal.com/services/trade-finance-awards-2017/#baf
**http://www.moneynet.co.uk/moneynet-awards-2017/
*** http://www.altfi.com/article/1842_big_three_to_miss_ifisa_launch