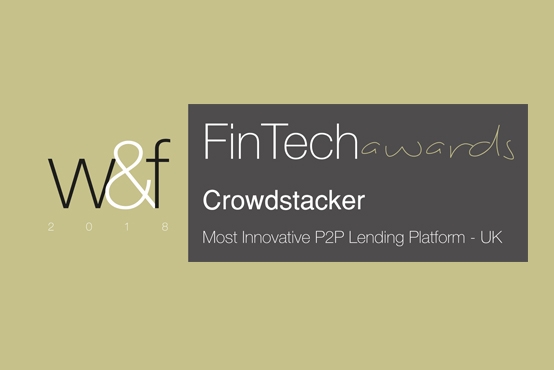 Crowdstacker Crowned Most Innovative Peer to Peer Lending Platform
3rd August 2018
We're pleased to be recognised for our commitment to innovation, especially at this time when we're announcing exciting, ground-breaking plans for Crowdstacker.
Crowdstacker has once again beaten off competition from other P2P finance platforms to win the award for Most Innovative P2P Lending Platform in the Wealth & Finance 2018 FinTech Awards.
The Awards seek to recognise excellence amongst experts and firms from all aspects of the financial technology industry. They specifically look for individuals and companies that can demonstrate efforts to create an easier, more intelligent and secure financial world for businesses and consumers around the world.
Crowdstacker is especially pleased to be able to reveal this award for innovation at a time when we have begun to share with our members and stakeholders a raft of new, exciting and ground-breaking plans that we are focused on delivering in the next few months. To find out more about our plans you can view our crowdfunding equity raise pitch through Seedrs.com
Wealth & Finance is a global publication bringing news from the financial services industry to over 130,000 professional and amateur investors. As such it looks at both the traditional and alternative finance industries.
To be recognised by this global magazine as an innovator amongst financial companies from around the globe is hugely gratifying. We hope it also stands testament to the effort and attention we pay to being a responsible, yet creative and disruptive influence to do more to service consumer needs.
Risk warning
Your capital is at risk if you lend to businesses. Lending through Crowdstacker is not covered by the Financial Services Compensation Scheme. Tax treatment is dependent on an individual's circumstances and may be subject to change in the future. For more information please see our full risk warning https://crowdstacker.com/risk-warning