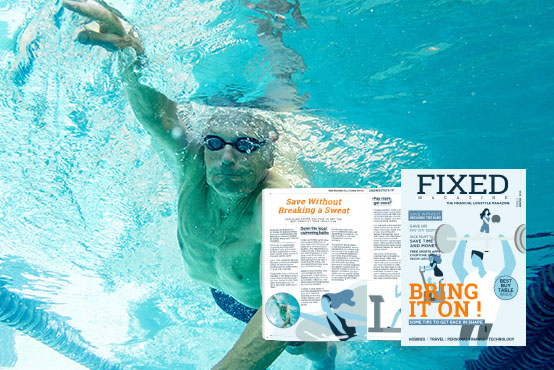 Save without breaking a sweat
Our guide shows you how to get the best deals at your local gym
Exercise is big business.  In Britain 10million people have gym membership, and the fitness industry pumps £5 billion every year into our economy. 
Driven by a huge interest in getting and staying fit members-only gyms seem to have popped up in every town, across every county, in the past twenty years.  Many offer additional services like spas and physio therapist clinics, as well as leisure facilities such as coffee shops, or even full-on dining.
Faced with such a choice we decided it was time to take a closer look at what you get for your money at your local gym, and where you can go to get some really good deals.
Do you know the 'Thrifty Gardener's easy ways to save money in the garden?
Down the local swimming baths
Whilst up market gyms have sprung up in many out-of-town sites, a lot of towns still boast fairly central council facilities.  And depending on where you are in the country, and what the policy of your local Council has been in recent years, you may be lucky enough to live near a Council sports which can give expensive private clubs a run for their money.
Better is one company that runs facilities for local government in sites across England and Wales.  It is run by a charity called GLL and exists purely to provide services for local communities.
It offers a wide range of activities depending on where your local centre is, including swimming, fitness classes, gym equipment and even courses and team sports.  Membership fees vary across different clubs, and depending on whether you pay monthly or annually.  Concessions are also available.
The best bit about Better is that you generally secure membership of multiple clubs for one fee.  This means you can use different facilities in your local area all through one membership.  Clubs often run 'no joining fee' promotions, and discounts are often featured in voucher websites for specific courses such as 50% off children's swimming lessons.  So before you join, make sure you search online for 'voucher' and "Better Gyms' to see what current offers are available.
Pay more, get more?
Private members clubs such as David Lloyd, Living Well or Nuffield Health all offer more up market facilities, but this comes at a higher cost than local municipal facilities.
For example, whilst perhaps better known for its tennis clubs in the past, David Lloyd is now one of the UK's largest membership gyms with many of its sites offering not only courts and club tennis but also well equipped gyms, indoor and/or outdoor swimming pools and a range of fitness classes for kids as well as adults.
Like many of its private member club competitors, David Lloyd often runs membership promotions, so check out your local club to see what could be on offer to you.  But also bear in mind they are keen to attract new members, so even if they aren't offering any deals at the current time, be sure to ask what could be done.
An alternative choice would be Living Well which also clubs at sites up and down the country.  It boasts gyms, swimming pools, fitness classes, well being classes and basic spa facilities such as a sauna or a steam room.  As with David Lloyd it's worth contacting your local centre to find out what deals they currently offer, or if there's anything they could do specifically for you.
Also bear in mind that many of the private clubs give free day passes to their members as part of their annual package.  So ask around, and if you have a friend who has a pass they are happy to give you, then you can go and check out the facilities as a member for the day.
The secrets you don't know about getting the best deals during the sales.
Move it!
Increasingly popular in the world of fitness are services which provide access to fitness facilities.  This could mean discount rates offered to employers who can then use these as part of their staff remuneration packages. 
It can also mean apps which you access via your smart phone to get access to a variety of fitness and sports facilities.
Move GB is one of these apps and it provides access to classes and facilities offered by all sorts of fitness companies in local areas from as little as £1.  For example, through Move you might be able to get a deal for a one-off personal training session, or a discounted one-month membership at a local privately run club.  You pay for the service based on how much you use it, so be sure to be realistic when you sign up – if you say you go to the gym five times a week, you're going to be paying more than someone who says they go once or twice.
Hussle offers a similarly flexible service.  A monthly membership gives you unlimited access to gyms near you.  Or the pay-as-you-go option allows you to get a one day pass, five one day passes, or ten one day passes, to use as and when you want within a fixed time frame.  There's no need to sign up to any contracts with either option, so you aren't locked in.  This could be a great option to people who want to try out the various facilities in their area, or if you regularly travel and want to have access to the gym wherever you are.
Do you know how much cash you should put aside for emergencies?  Find out here
If you're interested in finding out more about saving and investing check out our new magazine 'Fixed' which has loads of tips and hints about how to save cash.