St Mark Homes Bonds
Closed for investment. Target raise has been exceeded.
Watch St Mark Homes' video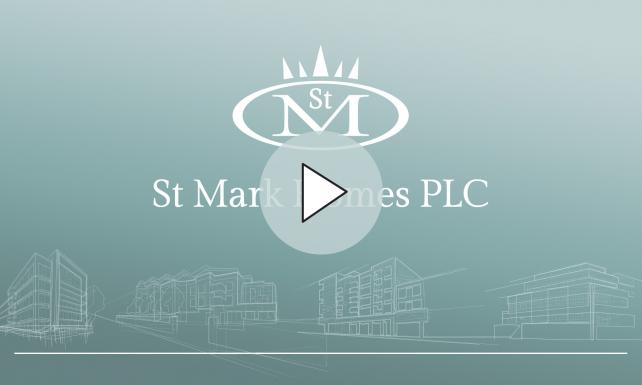 St Mark Homes is a residential and mixed-use property developer.
St Mark Homes was established in 1999 and is listed on the NEX stock exchange in London. The company focuses on the mid-range property market, primarily in London and the South East.
How it works
Your money is lent to St Mark Homes Plc and will be used to finance residential led property developments, eligible to fit in with the Governments 'Help to Buy' scheme. You can invest from £500, up to £500k, for a two-and-a-half-year period. You then receive a highly competitive, fixed, 6% gross per annum return. Your interest is paid quarterly, and your investment is secured on the assets of St Mark Homes Plc.
Giving you better security on your money
The Bonds will be secured over the assets, property, and undertakings of St Mark Homes Plc via a first ranking debenture given to the Security Trustee on your behalf.
The net assets of the company as of June 2017 were over £5.9 million and were comprised predominantly of loans to joint venture development companies that St Mark Homes has interests in. Please note the net assets of the company will fluctuate over time.
So how much interest will I receive?
It's simple - if you invest £1,000, you will receive £60.00 interest per annum. £150.00 interest over the two-and-a-half-year term. Interest is paid directly into your Crowdstacker account or your bank account. You don't need to reinvest your interest to receive this great rate.
Can I hold my investment tax efficiently?
You can hold your Crowdstacker P2P investments tax efficiently, dependent on your personal tax status, through the Crowdstacker Innovative Finance ISA. You could also potentially benefit from the Personal Savings Allowance through a Crowdstacker P2P Account.
No fees
We want you to make the most of your money, so we don't charge you any fees for investing through Crowdstacker.
More about St Mark Homes Plc
St Mark Homes is a residential and mixed-use property developer established in 1999 and listed on the NEX stock exchange in London. St Mark Homes have a small but highly qualified and experienced management team and usually partner with other trusted developers and parties who can bring acquired sites, construction and sales expertise to development projects.
More about Crowdstacker
Crowdstacker is an award-winning P2P investment provider and Innovative Finance ISA Manager. We aim to bring you a higher standard of heavily scrutinised, curated investments.
The finer details
Click on the boxes below to see our 6 great reasons to invest.

Security
How secure is my investment?

Rate of interest
What interest rate will I receive?

Payment frequency
How often will I receive interest?

Term
How long is the investment for?

Opportunity
What is the market opportunity?

Benefits
Are there any added benefits?
Ask us a question
If you can't find what you're looking for, ask us a question and we'll get back to you as soon as we can.