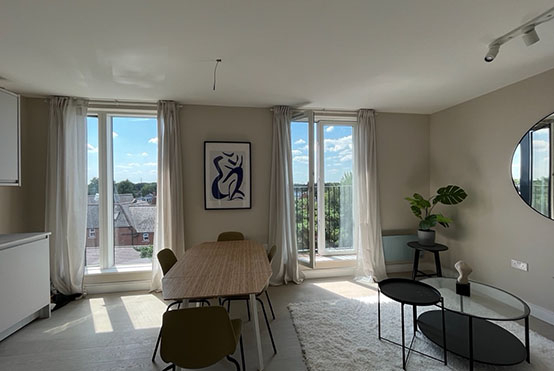 Manhattan House finished!
7th November 2022
The flats which have been constructed at the Manhattan House project in Crowthorne (Berkshire) are on the market and you can take a look inside!
Fourteen Amazing New Apartments
A sales video has been produced by sales agent, Duncan Yeardley Estate Agents, to look see inside the show apartments and it really showcases just how light and bright the wonderful new flats are. The beautiful kitchens and bathrooms can be viewed, and the apartments are 'dressed' to demonstrate how furniture works in each space. This helps to highlight to potential buyers how they can arrange their own furniture to make the most of the apartments.
The camera also takes you to the roof top to view the roof terrace offered to the new owners of the penthouse apartment. All residents benefit from private parking as well as secure bike storage.
PDL raised £252,000
The PDL for Manhattan House raised £252,000 and offered investors a 12% p.a. return over a 12 month term.
Interested in finding out about current PDL investments?