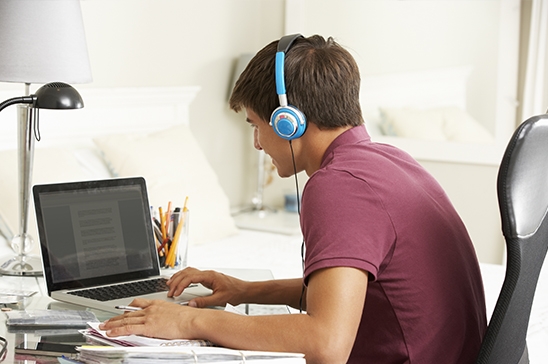 Top Money Tips for Your University-Bound Loved Ones
Personal Finance expert Andrew Hagger has written a three-part series of articles for Crowdstacker to help your children or grandchildren manage their money whilst at university.
Freshers' Week – and financial independence - is looming
It was only a few weeks ago that students received their A-level results but by now many will have bagged a place at their first-choice university and will soon be fledging the nest.
The number setting out on their student life is quite staggering: according to UCAS1, more than half a million teenagers were placed on a full-time degree course in the UK in 2017.
It's not just new surroundings and an intense study regime the latest intake of freshers will have to get to grips with. For many it will also be the first time they have to cope with managing their financial affairs.
Despite plenty of scare stories about student debt and money worries, you can help make university life less stressful for those you care about by passing on some of these top money tips for first-time college students.
Help them to pick the right bank account
For most cash-strapped students, a bank account offering the largest interest-free overdraft limit should probably be the priority as it will help keep unexpected costs down.
Most banks limit the amount of interest-free cash they will lend in the first year, which is a sensible move – with most allowing between £1,000 and £1,500.
Barclays, Nationwide and HSBC are most generous, and all offer up to £2,000 interest-free in year two and £3,000 in year three. Unlike TSB, Santander and Lloyds only offer a maximum of £1,500 in year three.
Having to pay interest on that extra £1,500 with TSB, for example, would mean paying 8.21% interest plus a £6 usage fee each month - so in the worst case scenario a TSB account could cost a student more than £190 in 12 months – extra costs they can ill afford.
Lloyds Bank is another student account to be wary of with any non-free overdraft charged at 1p per £7 borrowed per day – or to put it another way – interest at almost 52%.
Students also need to be aware that any overdraft limit is subject to application - it's not automatically set up on the account when opened.
All the banks seek to woo new customers with freebies and gift cards, but for many students a higher interest-free overdraft limit will be the smartest financial move.
If the free overdraft isn't a priority, then maybe consider Santander which offers a free four- year 16-25 railcard or NatWest or RBS with a four-year National Express Plus Coach card giving one third off fares.2
To pack a credit card or not?
When asked by readers of my columns in the past I have always recommend that students should give credit cards a wide berth unless they trust themselves to use them wisely. By that I mean paying the balance off in full, every month so they don't end up having to pay costly interest charges.
There's always that temptation to use a credit card as an extension of an overdraft. The problem is that a student's' already measly budget will be stretched to breaking point if they have to regularly fork out for interest charges in excess of 20% APR.
Yes, a credit card can be a useful way to manage cash flow when unexpected expenses arise, however it is probably worth waiting until you're in receipt of a regular salary before becoming too reliant on your plastic.
Has your offspring learnt the Budget Habit?
For many students, starting university will be the first time they've really had to seriously manage their own finances and to ensure there's enough cash to pay for books, accommodation, food and of course, a half-decent social life.
Unless they are disciplined from day one and draw up a budget of their incomings and outgoings, students could soon get in a mess with their money and end up having to go cap in hand to the Bank of Mum and Dad (or Gran and Grandad) to bail them out.
Budgeting isn't fun or sexy but it's an essential life skill that will save your kids from unnecessary worry, heartache and being hit hard with bank interest costs and extra fees.
Putting together a quick spreadsheet on their laptop or a Smartphone App is all it takes to make sure they have a good handle on their money matters and to know how much they've got in the bank to see them through until the end of term.
Student loan debt – why you shouldn't worry too much
With reports that the average person will leave university owing around £50,000 in student loans, it's not surprising that many parents and their university-bound children are very concerned about student debt.
The key thing to remember is that even though the total debt figures are high it is the amount they have to repay that's more important to understand as it will help put things into perspective.
Repayments on student loans begin in the April following graduation - but only if you are earning more than £2,083 per month before tax. If you are earning less than this, you are not liable to make any repayments.
Repayments are calculated at 9% on everything you earn above the £2,083 monthly figure– so for example if you earn a salary of £28,800 you'll receive a pay cheque of £2,400 per month.
As you are earning £317 per month over the limit you'll repay 9% of this figure which works out at £28 per month – deducted by your employer directly from your pay.
Any balance on your student loans after 30 years is automatically written off and won't appear on your credit record, nor will the amount be passed to debt collectors.
For full details of all aspects of student finance, including applying for and repayment of student loans, please check out the Government website.
1 https://www.ucas.com/file/140436/download?token=WX45D1lF
2 Internal research