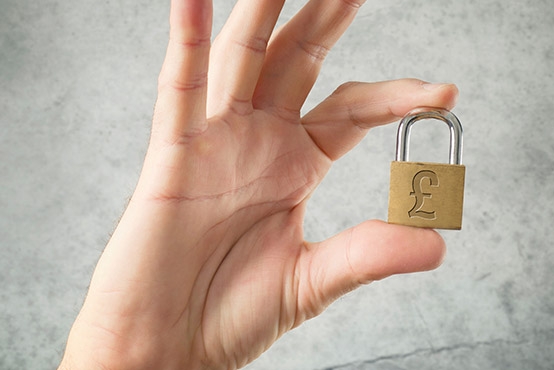 Protection limits for savers are being cut from January 2016
By our guest writer, personal finance journalist, Andrew Hagger
Generally, people are happy to trust their savings with UK banks and building societies, reassured by protection in the form of the Financial Services Compensation Scheme (FSCS), a safety net designed to reimburse customers if a bank or building society goes bust.
Currently the maximum balance protected per registered institution (not per bank brand – I will explain later) is £85,000 for a sole account and £170,000 for a joint account.
However, under the European Union Deposit Guarantee Schemes Directive the protection limits are being reduced from 1st January 2016. As a result, the maximum sum covered by the FSCS will be cut by £10,000 per person, therefore sole accounts will be covered up to £75,000 and for joint accounts the figure will be £150,000.
The government understands that for some savers this could be an issue as they may have specifically maintained a balance of £85,000 to maximise their protection but in a fixed term deposit account that doesn't mature until well beyond the 1st January 2016 deadline.
Usually if your savings are in a fixed rate savings account or savings bond you are not permitted access to your capital until the agreed fixed term is reached (usually anywhere between 6 months and 7 years).
However in these circumstances, those savers with money in accounts exceeding £75,000 with one registered financial institution will be permitted to withdraw up to a maximum of £10,000 (to reduce the balance to £75,000) without loss of interest and regardless of the specific terms and conditions of the account.
Customers faced with this scenario should already have been contacted by their bank/building society, but if you think you may be affected and haven't heard anything then give your bank or building society a call as the cut-off date to submit your request for withdrawal expires on 31st December 2015.
Aside from the limit changes, another worrying issue with the FSCS as I touched on earlier is that many people are not aware that the limit doesn't apply to each individual brand name, but only per authorised provider, such as HSBC which operates several brands including First Direct and HSBC.
It would potentially be far simpler all round if each brand provided the maximum FSCS limit to its customers and this could dispel the confusion that's been rife in this area for years.
Although savings websites and product literature state the details of which bank a brand is authorised under, this is often in the small print and something that most people wouldn't think about reading.
However if you have any concerns about whether you are covered, fear not. There is a handy checker on the FSCS website where you can enter the bank or building society name and amounts you have saved with each and it will tell you instantly whether you are covered by the FSCS or not - details can be found here.
If you would like us to contact you with more guest articles and information please register here.