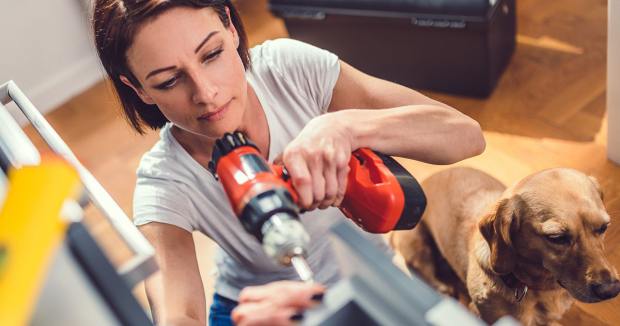 Tackling jobs at home yourself rather than Googling the nearest repair technician, can be a great way to save some money.
However, with all the complicated electronics and technology which is so often packed into even the most elementary of household items, means that fixing the dishwasher, or even something as simple as changing a lightbulb, can be trickier than it looks.
The good news is there are plenty of courses on offer where you can learn new skills and potentially save yourself some money at the same time.
Here we take a look at the best ways to learn these new skills.
What do you need to do?
Learning a new DIY skill can be a choice driven by something you are interested in, or it can be a 'stress purchase' made necessary because something needs to be fixed as soon as possible.
If it's the latter then you really need to find a way to learn the skills required quickly and as easily as possible. In these circumstances you might find YouTube is your best bet.
There are a surprising number of channels on YouTube set up and run by skilled engineers and those with the technical expertise to show you what you need to do. Some manufacturers run their own Youtube channels where simple at-home fixes are demonstrated, such as Miele and Zanussi. In most cases a quick search for exactly what you are looking for will bring up the results you need. For example, if your washing machine has a fault, simply search for the fault code alongside the make and model of your washing machine, and chances are a 'how to' video will come up.
Hopefully you'll be able to follow the instructions and get your washing machine back up and running before you know it.
The better 'how to' videos will indicate up front how difficult the task is, and will advise you accordingly to make sure you are not starting something you might not be able to finish.
Even so, make sure you watch the whole video through from start to finish before you get to work, to make sure it falls within your personal skills set, and confidence levels.
And never ever mess about with electrics, gas, or tasks which require specialist safety equipment – these should always be left to the experts.
Go to a class
If you watch a video through and decide that you are not confident enough to undertake the task, but it is possible you could do it if you had the right guidance and advice, then maybe it will be something you could learn in an evening class.
There are many courses offered by adult education centres and even private colleges in most areas.
They generally run for a few weeks and have different start times throughout the year.
You can learn everything from general household DIY to bricklaying and basic carpentry.
Find Courses carries a comprehensive list of what's available in your area.
Or, let the class come to you
Even more convenient than going out to a class once a week is to enroll on an online course.
You can then follow this at your own pace at a time that is most suitable to you.
Udemy is one of the best populated online course providers. Here you can learn a range of skills from how to use a drill, to how to fix your Wifi.
Courses are taught by all sorts of people. You can view previews of most courses before you buy, and all are broken down into bite size parts. The full course content is also available before you purchase, so you can make sure you are learning the skills you need.
Most also include some form of self-assessment so you can check progress. Although classes are not live, the better ones do run student forums on the site where you can ask questions of the teacher or other students.