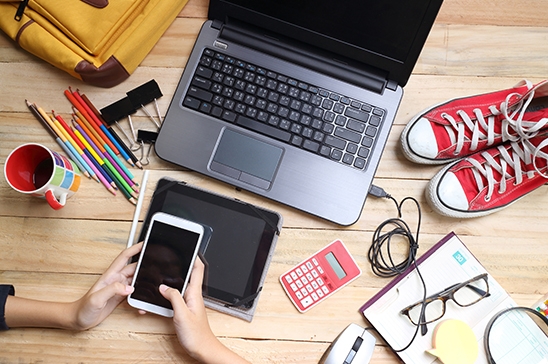 Contents Insurance for University Students is a Must-Have 
With today's students often owning hundreds of pounds' worth of kit, finding insurance to cover their belongings is essential. 
In part two of our series about helping your children or grandchildren navigate their finances as a student, personal finance expert Andrew Hagger explains why insurance is the new must-have accessory.
Have you overlooked student insurance?
Insurance is one of the things often overlooked by parents and children alike when heading off to university.
But remember, times have changed since us oldies left home armed only with a change of clothes, a few best-loved CDs and a pack of Bic Biros.  Today's student is likely to have hundreds of pounds' worth of laptops, smartphones and electrical gizmos in their backpacks.  
All of which are essential and will need to be replaced if they are lost, stolen or damaged.
This means insurance is now a must-have rather than a nice-to-have
Here are some things to consider when looking at insurance cover for your nearest and dearest's possessions as they set off on their university adventure:
Does your existing home insurance offer cover? Many policies do, but there are usually more exclusions and restrictions than those that apply to possessions in the family home.
Have you got 'Away from Home' cover? Does the cover include possessions when out and about on campus and getting to and from university? With most policies you'll need to pay extra to have this included.
What are the claim limits?  Claim limits can be lower than for possessions in the family home. Check these are sufficient, especially as students carry a lot of hi-tech, expensive gadgets these days. If you think they're too low, see if the insurer will increase them. If not you might have to seek stand-alone cover.
Have you checked exactly what's included?  Some policies place greater restrictions on what can and can't be claimed for by students. Some might include bicycles, but others not, for example, and you might want to pay more to increase the number of items which can be claimed for.
Are there any exclusions?  The circumstances involving incidents where claims can be made might be quite limited for students. Many policies will insist on a student having a lock on a door to personal space, even in a shared house, or won't allow claims for thefts from 'non-secure' places, such as on campus or in bars and clubs. As mentioned above, items that are easily stolen or commonly broken by students, such as bicycles and musical instruments, might be excluded.
What about accidental damage? Does the policy include accidental damage cover? Most will add this on for a small fee.
And what about the excess?  Students typically don't have much money, so check the excess (the first part of a claim which the insured has to pay). You might want to make sure you set it at the lowest possible level, even if this costs a little more.
For general insurance information specific to students check out the NUS website.