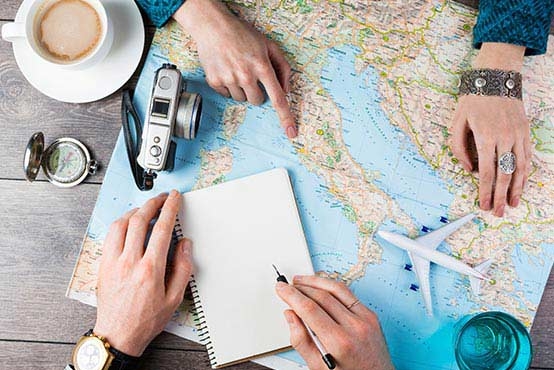 How to Save £££s on Your Next Holiday
Want to know some ways to keep your holiday costs down without compromising on quality or enjoyment?
By personal finance journalist Emma Lunn


Foreign countries can be expensive places. No sooner have you disembarked from the plane than you're charged twice as much as normal to make a phone call or paying to get your own money out of the bank.
Fortunately, there are a number of ways to keep the cost of holidays down without compromising on the finer details of your trip.
Here are some surprising tricks that could help you save money on flights
How much you pay for flights can depend on when exactly you book your trip and which day you fly.
According to comparison site Momondo (1) it's generally best to book 53 days ahead. Their research found booking then is an average of 26% cheaper than booking on the day of departure. Tuesday is the cheapest day to depart, while flyers booking for a Saturday flight will pay 11.5% more.
If you're flexible on dates and times, check flight prices with Skyscanner. It shows you the cheapest days in a month to fly and the cheapest travel agent or airline to book through.
Do you know how much it costs to use your debit or credit card abroad?
Before you jet off check what it will cost to use your debit and credit cards overseas. Most cards charge a 'non-sterling transaction fee' every time you use your card abroad. Price comparison website GoCompare (2) calculated the average fee charged is 2.9%.
Using your credit card to withdraw cash abroad can see charges ramped up even more. Fees for using an ATM overseas range from 2% to 5%. This fee, together with the non-sterling transaction fee, means customers could be charged almost 7% for withdrawing their own money.(3)
The main exception is Halifax's Clarity Mastercard which doesn't charge extra for use abroad (4). Alternatively, prepaid currency cards sometimes offer better value than debit and credit cards. Most offer competitive exchange rates and can be topped up online.(5)
Here's how not to get caught out by mobile phone charges when on holiday
With most networks using your mobile phone abroad is not covered by the inclusive minutes or data you get with a monthly contract. Instead you'll be charged higher "roaming rates".
1MB of data can cost anything from 5p to £12.50 depending on your network and destination, and there are plenty of horror stories of people receiving four-figure bills when they return from holiday.
The one exception is Three. It's "Feel At Home" (6) service allows customers to use the internet, and call and text home out of their UK allowance. It covers 18 destinations including much of Europe, Australia, Indonesia, Hong Kong and the US.
Customers on other networks can keep their holiday mobile bill to a minimum by switching off data roaming and using local wifi to access the internet. Another option is to buy a local SIM card although this will mean having a different phone number while overseas.
Take a look at the canny ways to save on holiday travelling
Whether they are driving or using public transport, holidaymakers can save money by planning how they will get to the airport.
Sites such as holidayextras.co.uk (7) and airport-parking.uk.com offer savings of up to 60% if drivers book car parking in advance rather than just turning up on the day.
Booking ahead can also save you money if you're taking the train to the airport. The Heathrow Express from Paddington to Heathrow costs £22 for a single journey if you buy your ticket on the day. But a 90-day advance fare costs just £12.10 and 30-day advance fare £14.30 (8).
Don't get caught short. Invest in decent holiday insurance
Travel insurance might seem like an extra expense but we believe it's worth having. It's best to buy a policy as soon as you book your holiday so you'll be covered if you need to cancel.
As well as cancellation, look for a policy which will also cover in the region of £1m or more in medical costs. This might seem a lot but medical costs can be extortionate in some countries – in America, for example, you'll pay tens of thousands of pounds for treatment for a broken limb (9).
According to Moneysupermarket (10), as a general rule of thumb, an annual travel insurance policy is better than single trip insurance if you take two or more trips a year.
References
1. Momondo press release 10/11/15: prnewswire.co.uk/news-releases/momondo-finds-flights-cheapest-53-days-in-advance-544707802.html
2. Go Compare press release 23/3/16: gocompare.com/press-office/2016/foreign-use-credit-cards/
3. moneysavingexpert.com/travel/overseas-card-charges
4. halifax.co.uk/creditcards/clarity-card/
5. moneysavingexpert.com/credit-cards/prepaid-travel-cards
6. Three website: three.co.uk/Discover/Phones/Feel_At_Home?id=1523&aidset=1
7. Holiday Extras website: holidayextras.co.uk/airport-parking.html
8. Heathrow Express website: heathrowexpress.com/tickets-deals/prices-fares
9. This Is Money 12/9/13. The world's most expensive medical care league: How breaking a bone in the US could cost you almost a year's wages: thisismoney.co.uk/money/holidays/article-2417632/Worlds-expensive-medical-care-Breaking-bone-US-cost-years-wages.html
10. Moneysupermarket website: moneysupermarket.com/travel-insurance/annual-multi-trip/
To read similar personal finance articles download your copy of Fixed magazine, Crowdstacker's new, free financial lifestyle magazine, featuring the latest in travel, hobbies, money saving tips and more.