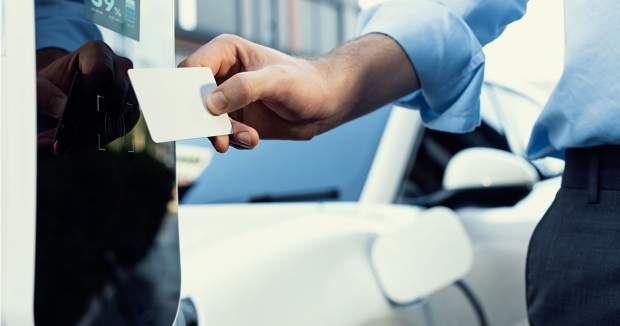 How to charge (and pay for charging) your EV
There are two basic options to charge your EV, either at home or at a public charging point. But it can feel daunting and challenging to work out how to charge an EV, so we've simplified it all into a useful short guide.
Public Chargers
Think of a public charger much as you currently think of a petrol station.
Just like petrol stations there are a variety of companies which operate these points, hence why they are branded. You may have spotted familiar names such as BP Pulse or Shell Recharge, for example. Or Ionity or Podpoint which are less familiar but have sites up and down the UK.
Generally charging at public points will be rapid (on-the-road) or fast (destination) charging. Rapid chargers are more likely to be found in places where you will not be stopping for long, for example, at a petrol station. Whilst fast chargers will generally be situated at places where you may be staying for slightly longer such as supermarkets or shopping centres.
Fast chargers will deliver between 7-22kW with the aim of adding up to 50 miles to your journey range (depending on the vehicle and time allowed for charging). If you use one of these types of points you will generally need to have use of your own cable, so make sure it is to hand in the boot of your car.
To use a fast charger just park up next to it, plug your car into the charging point. Payment can be done by contactless payment or some of the older networks require you to set up an account on their app.
Rapid chargers provide higher levels of electricity, in the range of 50-350kW. Depending on the charging rate of your vehicle, this means you can plug you car in for much shorter periods of time and charge your battery to full or almost full. They are designed to be used for around 30 minutes.
Using a rapid charger is exactly the same as using a fast charger, the only difference is that the cable is tethered to the charging unit. Usually they require a CCS or CHAdeMO connector socket and you won't be able to use your own cable. It's therefore important to check which type of connector you have and identify the right rapid units to use.
At home chargers
It is possible to plug your car into a normal three pin wall socket. This will charge your car, but because they deliver just 2.4kW it will take many hours to charge even a small EV. This might not be an issue for some people who don't need to use their car for most hours of the day, so it is worth considering if you don't want to spend money installing an EV charger, or your property and parking arrangements won't allow for you to install one.
It is much quicker to use a wall charging unit. As the name suggests you will need somewhere to fix the unit to, but it doesn't have to be a wall, they can be fixed to posts and some even have a bollard or post accessory you can buy to attach it to.
Tethered versions just mean the cable is permanently attached to the unit. Untethered means they are not. Most cars now use Type 2 connectors for home charging, but older versions may use Type 1. It is possible to purchase converters.
Typical home chargers will offer around 7kW, but you can also buy 22kW faster chargers, or lower power rate chargers of 3.6kW. Most cars have an maximum AC charging rate of 7 to 11kW, so a 22kW charger will only work on a DC connection.
AC/DC
The AC chargers are the ones you will use most often, and work with most home and public fast chargers. In 2014 the EU made it law that all plu-in cars would come equipped with a Type 2 AC socket. If your car is older you may have a Type 1, but as said before, it is possible to buy converters.
The DC chargers provide the rapid charging. There is no such law governing what type of DC chargers all cars have to have, so there are three at the moment. One is for Teslas only. The second one is a CHAdeMO, but this is rare. And the third is the CSS system which is the most common.
But remember, your car will have a maximum AC charging rate and this is likely to be 11kW or less. So it won't matter whether your charging unit delivers more than this or not, your car won't charge any faster.