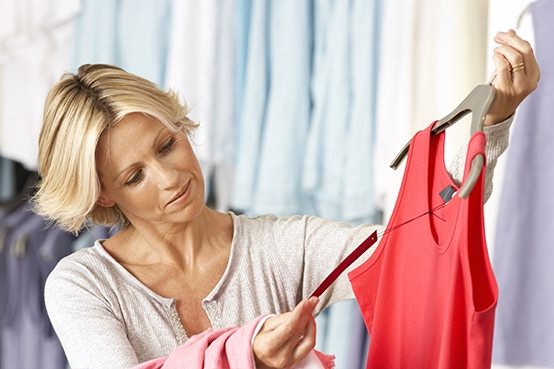 Getting the best out of the January Sales
The January sales are well-known for being one of the best bargain hunting months. A little bit of preparation ahead of the sales could put you in the best position to get some top bargains. Here are a few ideas to bag the bargains and avoid the pitfalls.
 
Preparation is key
If you let your heart overrule your head you're in danger of buying the 'must-have' item at a seemingly 'must-have' price only to discover when the excitement has waned that it's not what you want after all.
 
To avoid buying things you don't actually need, or compromising on what you actually want, the first step to successful sales shopping is to make a wish list. 
 
Canny shoppers will include in this not only things for right now, but also think ahead to what they might want or need in the next few months.  For example, you might need gifts for family and friends' birthdays. 
 
Families with children might want to plan ahead to what items are going to be needed over the next few months and put those on the list.  For example, buying children's winter coats when they may be discounted in the January sales in a couple of sizes up, will often help you get a bargain for next winter. 
 
Planning ahead can also mean you bag more bargains with designer brands.  That pair of boots might have to sit in the wardrobe until it gets cold again, but they may be far more affordable in the January sales than if you wait for the New Season collections to hit the shops in the Autumn.
 
Beware though, the big Sales and store discount days can offer some amazing prices on all sorts of goods, whether it's perfume or sofas, TVs or cookware, so the list can also be a great way of disciplining you into buying only what you need. Use your list to make sure you don't forget anything, but also to ensure you aren't just won over by a fabulous discount for something you're never going to use.
 
And on a similar note, use the list to stay within your means. Put a price or budget against all the items you plan to buy. This should be based upon what the item is likely to cost, but also what you are willing to pay.  Then try not to exceed this, however attractively something is marketed to you on the day.
 
The next step should take place well in advance of any actual purchases in the January sales.
 
Find out where the items you want are stocked and what outlets offer in conjunction with the item. For example, is there a no quibbles returns policy or a built-in warranty? Items in the sales can sometimes have a much shorter timeframe to return for an exchange or refund compared to non-sales items. It is therefore wise to keep a note of this when deciding what to purchase in case you need to send something back or return it to the store.
Once you have this information you'll know where you ideally want to make your purchases, and whether or not you can buy several items in one place potentially making the whole thing a lot easier in terms of payment, as well as delivery if you are shopping online.
 
If shopping online it's also helpful to clearly identify which outlets you'll be targeting during the January sales and make sure you set up an account with them ahead of time, and sign up to newsletters or Social Media alerts. 
 
The former will ensure you don't waste valuable time on the day going through a lengthy check-out process (and potentially losing out on the item you want to buy because things can sell out in seconds). The latter potentially enables you to know ahead of time if the retailer is planning to discount the item(s) you want because they may well send out alerts beforehand.
Alternatively, waiting until later in the sales to make your purchases can sometimes lead to even bigger discounts. Some retailers may discount an extra 10% or more on top of their already discounted sale price on that must-have dress, pair of trousers or jacket, so be on the lookout for further reductions. This is where being signed up to retailers emails and newsletters can help you stay in the know about what their latest offers are so you can act quickly. However, you may need to be prepared to lose out since sales items, such as clothing in popular sizes or household or electrical items, can quickly go out of stock during the first days or weeks of the sales.
Once you have all your ducks in a row the final step is to go shopping. However, be vigilant. If you've managed to note down pre-sale prices on your list, you'll be able to quickly check just how good a deal is being offered whilst you're at the shops or browsing online.  Plus, you can discipline yourself about the quality of what you buy. Retailers are obviously going to use any discount sale as a way to shift products that have been hanging around for a while, as well as entice shoppers in by offering bargains on popular products. 
If an item you want to buy is unfortunately not included in the sales you can always try joinhoney.com to find potential discounts. Honey can be added to your web browser as an extension and searches through a plethora of coupons and codes which can be used to discount online purchases. If Honey finds a discount it can add the code directly to your online basket. Honey has over 37,000 retailers signed up across the internet, so it's worth a look to see if you can save some money.
Good luck!