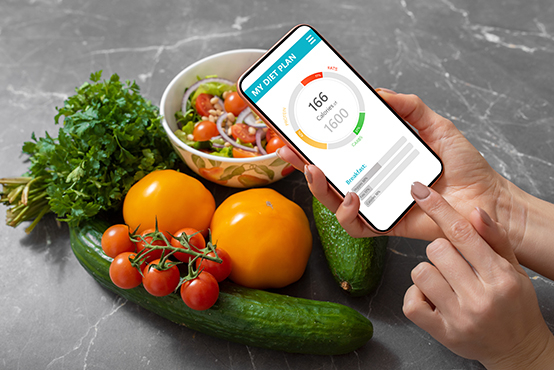 Food Apps to Eat Healthier and Save Time
Cooking is often a pleasure and it's always a joy to eat delicious food, but what about those days when all inspiration has left you and you find yourself reaching for unhealthy snacks or frozen ready-meals.
Help may be at hand however, in the form of nifty little apps which can help us plan, shop for and then cook wonderful food with half the effort and sometimes half the cost. Here we round up the best of the bunch.
Find out how to become an armchair property developer with our new PDLs.
Paprika isn't just a spice
Paprika is a clever little app that helps you plan meals and organise your recipes. To help save you time and to keep your nutrition or food goals in order it provides you with a monthly meal planner that you populate whenever you need or want to. So this might mean sitting down once a month to think ahead about what you will cook and when, or you can do it as and when you have time. The key tool is provides is to sync this planner across all your tech, so you can access it live at any time from your phone, your tablet or your computer. You can input your own recipes or you can import than from any number of sites on the internet.
As it does this it also builds a list of groceries that you need to buy, and orders them according to the aisle they will be found on in a standard supermarket. So when you go shopping, all you need to do is open the app, select 'shopping list' and then it will tell you what to buy, how much and where. This could be a real time and money saver helping you to avoid unnecessary purchases and also making sure you don't have to make multiple trips to the shops because you keep forgetting things.
Also of note is the interactive recipe tool. When you are cooking you can choose have the recipe open on the app on your phone or tablet. As you complete each task in the recipe you can cross it off and move to the next. Helpfully the app will also build in timers automatically, so if you have specified an amount of time something needs to be in the oven or how long it needs to be sauteed for, then that stage of the recipe will have a time that you can simply start and then be alerted when the allotted time is up. This could be really helpful if you want to multi task and get on with some other chores whilst your making food.
Paprika is available on Android, Apple, and is supported by Mac and Windows. There is a small cost to download it.
Think this article is interesting? Subscribe to our free magazine Fixed for more of top tips on saving money.
Keep on track with Noom
Noom is really tapping into the public consciousness at the moment, and it's probably because of the user-friendly tools which help you not only keep on track with your diet goals and more importantly it disciplines you to keep nutrition goals so that you get healthier.
The system claims to work better than other diet programmes because it focuses on this nutrition element and the psychology of eating. Users are not automatically pushed towards weight-loss goals but can choose to aim for better fitness and better health. Download the app and the first task is to fill in a questionnaire which tries to understand what your goals are and what your current attitudes to food are. From this you can then set your food objectives. The free version gives you access to a meal tracker where you log what you have eaten and the calorie counter will show you what you have consumed in total for each meal and for each day. Helpfully the system also highlights the level of nutrients in the foods that you log using a colour coding system. Mostly green and you know you've eaten well during the day, mostly red and you probably need to rethink your food choices.
There are plenty of other apps on the market that offer similar food tracking and food goal tools, but Noom is set apart with the educational resources that accompany it. The questionnaire you filled out at the start will identify your likely food issues and the education programme is there to help you deal with them. Need to learn more about the vital vitamins and minerals you need if you're working long hours and exercising hard, then Noom has an article on this to help. Goals are therefore set not just to keep eating habits in check, but also to build your knowledge about food and how to use it as fuel, not just as an emotional crutch.
Sort our your grocery shopping
This is one of the best reviewed apps in the list. Ourgroceries is a US-based app but it is synched with UK supermarkets so you can use it seamlessly. It's basically a way of keeping a live shopping list that can be shared with everyone in your household. Simply download the app then you can use it from all your devices to add items to the list as and when you become aware they are needed.
It can also be controlled via Google Home or your Alexa system, so you can add groceries to it even if you have your hands full or your phone is out of reach.
Perhaps the best thing is that everyone in your household can share an account so if anyone needs anything they can simply add it to the list. This is great when you have teenagers or older children in the house who invariably ask you to put something on the shopping list at the most inconvenient times. And it's great to ensure that no item is bought twice by accident because two people think it's needed but neither knows someone else has already bought it.
You can also order your lists by store, so if you buy fruit and vegetables in Marks and Spencer, but prefer to buy your wine in Aldi, then you can set up and maintain separate lists for each.
Big Oven for Nutella hot chocolate and meat-free meals
Spend ten minutes scanning the internet and social media for recipes and you will be overwhelmed. There is so much content out there and so many wonderful food ideas that you can't possibly have time to try them all.
Big Oven claims to bring together in one place all the very best recipes you could ever need, and it hopes to inspire you with new but simple ideas, such as Nutella hot chocolate. Like some of the other apps we've looked at it provides meal planning and grocery list functionality, but really the best bit of this app are the amazing recipes. If you want some ideas and to get someone else to make dinner time choices, then this is the app for you. From casseroles to sauces, deserts to cocktails, this app has a recipe for every day of the week, and every week of the year.
It provides meal ideas depending on the time of year so you can pep up your Easter Sunday roast or pull together something magical for Valentine's Day. But the emphasis is on keeping things simple and easy so nothing is too complicated. Plus, if you're looking for specific things – whether it's vegan dishes, Gluten-free meals, things you can cook in less than 10 minutes, the list really is endless – then this app has a handy organisation system which helps you search for ideas based on specific criteria.
So if you're feeling uninspired or unenthused about cooking maybe try some of these apps to help you get back your cooking mojo.
Find out all about how you can use your ISA to invest with Crowdstacker.
Your capital is at risk if you lend to business (click for full risk warning).