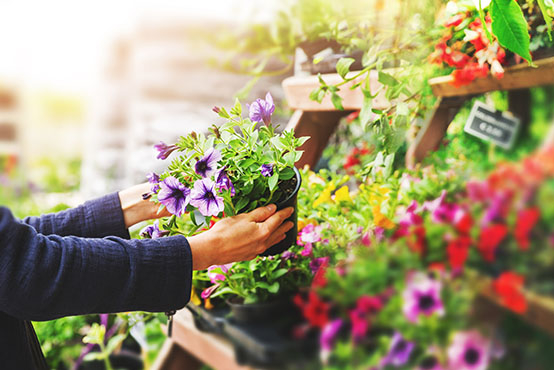 As any avid gardener will tell you, there's no such thing as browsing at a garden centre or nursery. If you love plants you're going to buy them whenever you get the opportunity. Even if it's just a little tray of bedding plants to jazz up a neglected border.
The more organised amongst us might have a carefully curated garden diary which lists the plants that have come to mind as potential additions to the garden throughout each season. A lucky few may be creating a garden from scratch and are working off an extensive plant list. Some are replacing plants that have had their day or which have simply not thrived where they were planted. Some just like to collect plants and can't resist the thrill of getting something new and striking.
If any of these profiles sound like you, or you simply know that you are prone to buying something every time you visit a garden centre, then you might want to have a read of our handy guide to some of the best plants which really give more than they cost.
What makes a plant worth it?
Let's start by acknowledging that the best plants for your garden are the ones that bring you the most joy, whether that's because you enjoy the anticipation of seeing them grow, because they dazzle you with colour or scent or just sheer audacity every year, or because they serve a practical purpose such as screening or structure. These are elements that all make plants valuable and worth the cost.
In terms of types of plants, perennials are obviously a better investment than annuals because they can be enjoyed every year. But annuals can be bought as seeds or seedlings at very low prices, so perhaps they offset some of this longevity because they require less initial output. Plants which enable you to make more of them are also worth considering. Those that can be used for cuttings or which can be easily divided can be deemed very cost effective. Think also about the time and money that's needed to grow and maintain your plants. If you've invested in a lot of topiary, for example, there's an on-going cost with maintenance either because you need to pay for help or because you need good tools or a lot of time to do it yourself.
Taking all of this into consideration let's take a look at the list of some of the best plants which really fit the bill because they make a splash for less cash.
Queen Anne's Lace (Daucus Carrota) or more commonly known as 'wild carrot' is a fabulous plant. It's so easy to grow from seed and if you've ever tried you'll know how many plants you can create and how difficult it is waste any. It's a biennial, so you're going to get repeat performances from the seeds you sow. Plus it grows quickly up to around 75cm yet is delicate, hence the name, providing lovely structured flowers and stalks, perfect for interplanting with other cottage garden type flowers. If all that wasn't enough it's a big draw for insects so a wonderful choice if you want to attract bees and other buzzing friends.
Antirrhinums or snapdragons have been making somewhat of a comeback in the fashion stakes over recent years. It could be because of the amazing variety of colours available, or it could it their ability to really fill a space. Either way these are wonderful for anyone who likes a good old fashioned showy flower that can be grown from seed and which will flower happily all through summer and into the autumn. They are also wonderful as cut flowers – so can be enjoyed inside as well as out.
Rudbeckias are fabulous perennials that are worth investing time in to grow from seed. If you look after them and nurture their progress you can easily find yourself enjoying these gorgeously tall and elegant flowers which continue to flourish year-on-year. When it is established and perhaps getting a bit too big where it's planted, you can divide it to create instant new plants.
Miscanthus sinensis is included in our list, because although not all garden designs lend themselves to using grasses, this plant is so multi-purpose it could well deserve a place in many situations. It 'gives' for most of the year, from its new spring growth to its gorgeously ethereal summer flowers through to the height and shape that sustain right through autumn and early winter. Plus it can be grown in a variety of positions.
Clethra is a vigorous shrub that will establish itself quickly if it likes its setting. There are several varieties all offering a range of flower colours and leaves which can be darker or lighter. Most flower in the late summer and on into the autumn, when they offer up a wonderful scent with the low tones of clove.
Geums are absolute superstars not only because there are so many subtly different varieties to choose from, but also because they are so reliable. As a perennial they can die back in the colder months, but will always reappear and flower by early to mid-spring. Some plants, which are in particularly happy positions, have even been known to flower 365 days a year. Who could say no to that?
Forsythia is probably one of the most important plants to have in the garden is you struggle with winter darkness and look forward with a passion to spring. What could possibly be more joyous than spotting those unabashedly bright yellow flowers which this deciduous shrub manages to gift to us all just at the right moment when we need reminding that warmer, longer days are just around the corner.
And lastly we wanted to give an honourable mention to all cut and come again flowers. Whether its zinnias, Gomphrena, cosmos, dahlias, phlox, sweet peas or any of the other blousy show-offs that find their moment in the bright sunshine of summer. Any flowering plant that is generous enough to allow you to cut its blooms to enjoy in a vase on the mantlepiece, only to reward you with even more, has certainly earnt the right to be called a plant that gives more than it costs.
Find out all about how you can use your ISA to invest with Crowdstacker.
Your capital is at risk if you lend to business (click for full risk warning).