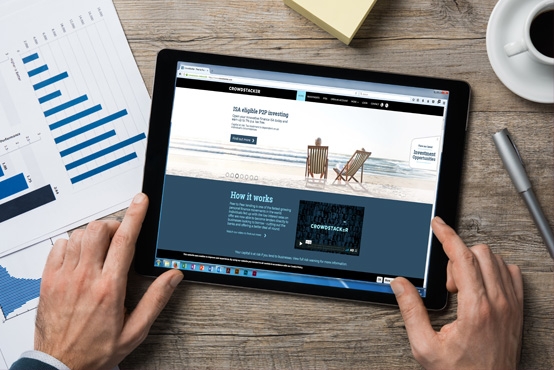 Make the right investment choices
A full FCA Review of the crowdfunding (and P2P) industry is expected in the autumn. As part of this we anticipate more guidelines about the type and quantity of information made available to potential investors and lenders.
Since we launched in 2015 one of Crowdstacker's founding principles has been to provide enough information, in an easy-to-understand format, to assist everyday investors in making the right choices. Here we take a closer look at the materials we use and the purpose they serve.
What Investors need to know
If you are considering bringing P2P lending into your investment mix you should ensure you are working with a platform which enables you to find out all the information required to make an informed choice – in a similar way to choosing stocks and shares.
An important part of this is that the information is made available to you in an easy-to-understand and relatively quick format.
Perhaps the most important element of the due diligence process for the potential investor, is assessing the information unearthed in the context of their own personal investment situations.
The Investment Brochure
Crowdstacker produces a variety of materials with the aim to help investors make the right choices. The main piece of work is the investment brochure, such as this one for our latest raise for Authentic Alehouses.
Our investment brochures collate together all the most important findings from the due diligence process. It is designed as a 'warts and all' document where not only the positive attributes of the borrowing business are laid out, but also the potential risk factors are explained in full.
It is designed to be read in just a few minutes and is written so that it can be easily understood. This should be the first port of call for any prospective investor.
The power of animation
Secondly, we produce a video or short animation, such as this Authentic Alehouses one.
This describes the basics of how the investment works and how to invest. Additionally, it is possible to see all this information on the website where each investment has its own dedicated web pages.
Perhaps most importantly we also offer the opportunity to ask whatever questions you need to. This can be done by email or even by calling our helpline.
Our helpline is staffed by Crowdstacker employees who can assist with any type of query. Even if they can't immediately provide an answer they will take the time to find out and get back to you.
As our business grows and we need to scale up this part of our operation, it will remain at the core of our customer service and we will work to ensure the standard of excellent service we provide is not compromised.
Why we are proud of our deep dive due diligence process
The deep dive process in peer to peer lending is not something many investors have the time or resources to recreate for themselves, so we try to do as much of the hard work as possible.
Therefore, they are reliant upon the process being undertaken in a careful and detail driven manner by the platform they are hoping to invest through.
Karteek Patel, CEO of Crowdstacker, explains why the deep dive process is so key to how our platform is run: "From the start, Crowdstacker has always been about creating much more compelling investment opportunities for consumers.
"We believe we are different to many other current peer-to-peer platforms. Our goal is to focus on more established businesses with finances that stand up to close scrutiny and a more formal due diligence process rather than the simple checklist approach used by some of our competitors.
"Of course, start-ups and micro businesses offered on other types of P2P platform can play a part in an investment portfolio, but we wanted to offer something with the potential for more protection and stability for investors.
"So, if you lend or invest your money in debt instruments and want to get your money back, it pays to do your homework. Take the time to find the information you need, analyse it and then assess whether it fits your investment style and portfolio."
Your capital is at risk if you lend to businesses. Lending through Crowdstacker is not covered by the Financial Services Compensation Scheme. Tax treatment is dependent on an individual's circumstances and may be subject to change in the future. For more information please see our full risk warning.
Crowdstacker Ltd. is authorised and regulated by the Financial Conduct Authority (frn. 648742).