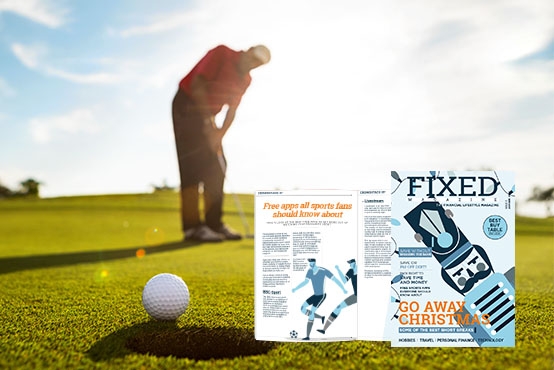 The best free apps to enhance viewing and listening to sport for all fans
Technology is now a key part of most sports, whether it's used to aide viewing or actually as part of adjudicating the sport itself.  It's even made its way into the way we directly interact with sports, our favourite players, or the teams we support.
Apps are a big part of this, so whether you want to watch, listen, analyse or research your favourite team or player, there is almost certainly an app out there that can help you.  We've taken a look at some of the best free apps available for mobile devices and the best bit is you can enjoy all of these without having to break a sweat.
Ever thought of making money out of debt?  Find out how here.
BBC Sport
The BBC Sport app gives you access to a plethora of cool sports extras including highlights on demand.  So if you missed your team play or if the match wasn't shown in full, you can just open the app and search for the recorded highlights to enjoy all the best bits.
Better still you can also watch live action via the apps streaming of all live action. So even if you're travelling, out of the house doing something else, or even at a football match but want to keep an eye on what's happening in the golf, you can still keep on top of the latest scores and play.
It is free to all BBC license holders and can be downloaded for all types of smartphone.
ESPN
ESPN is one of the biggest sports networks in the world, and its app covers UK sports as well as American.
Its app is free to download but does offer premium content which needs to be purchased.  It covers everything from motor racing to cricket, and hockey to boxing.  As with the BBC app you can view highlights on the move, and also set up alerts to keep you up to date with the latest scores in matches you are following.
Every heard of the 10% rule?  It can be the key to successful investing and saving.
PGA Tour App
Golf fans may particularly appreciate an app which can be used to accompany TV viewing. 
Analysis, replays, and statistics are all extremely useful to enhance enjoyment of golf tournaments as players compete on different courses around the world.  Given the size of golf courses they can also be extremely useful for visualising the set up of the course being played, as well as each hole.
One of the best golf apps to use is produced by the PGA, and aptly called the PGA Tour App.  It helps keep you up to date with what all the players are doing in the tournament – not just those being shown on the TV footage, shows tee times, and provides edited highlights of the action.
Livestream
Livestream is an app that you can use to view as well as broadcast, so it's not just a sports viewing app.
Much as the name suggests to it streams TV coverage of live events from around the world, including major tournaments and games.  The quality of the coverage is very high, and it consistently scores well in online reviews, often being cited as one of the best sports apps.
But be aware this is not specifically a sports viewing app.  It was created so that users could not only use it to watch live events, they could also use it to broadcast live events.  This means there is a multitude of content on there to choose from, including church services and company updates from businesses which use it to communicate with employees.
However, because of this simple proposition, Livestream is easy to use and relatively bug free.
Feedly
Unlike some of the other apps in this list, Feedly is not itself a broadcaster. Instead it aggregates news from various sources including newspapers, newswires and social media.
Like Livestream this app is not specific to sports, so you can use it to track news associated with anything you are interested in.  It does work particularly well with sports however.  All you need to do is set up your account to alert you to anything related to sports news you are interested in. 
This can be done, for example, by selecting Premiership Football or the name of your favourite team.  Once you've set this up Feedly will push to you any content mentioning what you have said you are interested in.
So you'll not only get scores and game or match updates, but also team news and indeed anything related to the sports you have told it you are interested in.
If you're interested in finding out more about saving and investing check out our new magazine 'Fixed' which has loads of tips and hints about how to save cash.