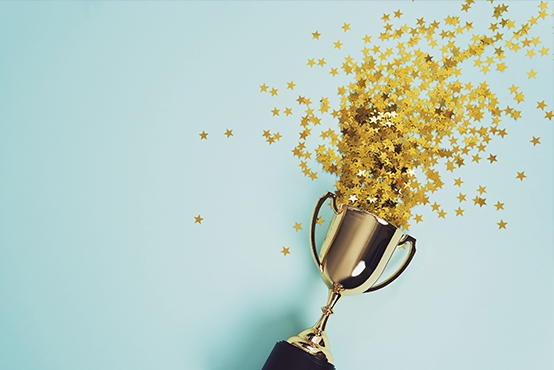 Rewards from awards
12th May 2018
In the last three years Crowdstacker has won nine prestigious industry awards recognising everything from the quality of our Innovative Finance ISA to the overall performance of our P2P platform.  These awards have provided incredibly useful feedback for us, helping us understand what our stakeholders really appreciate about how we work and what we do, as well as providing a well-deserved pat on the back for our hard-working, dedicated team.  
Here Karteek Patel, CEO of Crowdstacker, takes a look at why reflecting on success can be an important part of business development.
Eyes on the prize
We live in a society where mindfulness in our personal lives is increasingly promoted and encouraged.  Unfortunately, however, it is still too often considered not good form to include time spent reflecting on successes and triumphs. 
Our national British stereotype is to down-play when we have done well, and focus instead on areas for improvement.
Whilst recognising what needs to be done better is essential, it is perhaps just as important as a business owner to take some time to look at what has worked well and think about why this has happened so you can do more of it.  
Hard work reaps rewards
Just as our portfolio of investment products has grown, so has our team since we launched in 2015, and we anticipate taking on more staff in the coming months.  
All of us work hard every day to make this business a success and we try to make time internally to recognise this and reward people accordingly.  
Industry bestowed accolades are a wonderful form of confirmation for me that the business is working and fulfilling a need, but also provide positive feedback and job satisfaction for the whole team.
Reflecting on success can create more success
As a business owner I know how easy it is to spend most of your time thinking about how to make the business better, and where more attention and time is required for the business to keep developing.  
But with nine awards now under our belt I have begun to appreciate the value of spending at least an equal amount of time looking at what is working well.  Often there are just as many lessons to be learnt from success that can be implemented in other areas of the business.
For example, one piece of positive feedback we regularly receive is that our Innovative Finance ISA is easy to understand and easy to set up.  As we develop new types of products to offer on the platform we have been able to apply to these all of the same functionality that we know customers appreciate on the Innovative Finance ISA.
As we move the business into new markets and broaden the scope of what we offer investors, Crowdstacker is fully focused on development and improving the service for investors.  I intend to ensure we continue to take inspiration from our own successes.
By Karteek Patel, CEO, Crowdstacker