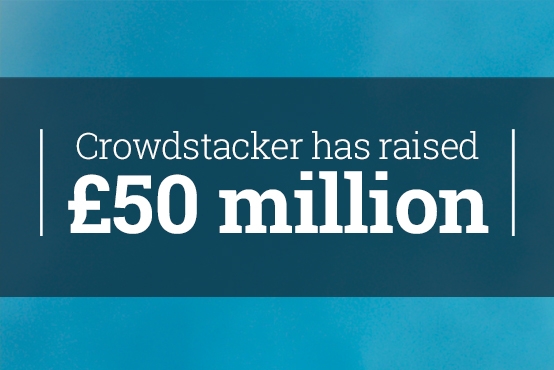 Over £50m raised through Crowdstacker
15th August 2018
It has been a momentous year for Crowdstacker. We have scooped 4 industry awards, launched our exciting Seedrs equity crowdfunding campaign and now we've just hit our £50m milestone of funds raised for British businesses.
Crowdstacker exceeds £50m raised for British businesses.
At Crowdstacker, we are an ISA eligible investment platform that seeks to provide curated investments. We are now celebrating exceeding £50million in funds raised for businesses featured on the platform. This is a great achievement and demonstrates the interest from investors in peer to peer lending and particularly the Innovative Finance ISA account, enabling investors to lend to British businesses and earn potential interest tax free.
100 per cent of funds raised on Crowdstacker come from 'the crowd'.
And the exciting bit is that 100 per cent of the peer to peer lending funds raised for British businesses through Crowdstacker has come directly from 'the crowd'. There is no institutional money involved, just simple 'crowdfunding' in its most pure form.
Crowdstacker investors have been paid a total of £13.4m in interest and capital repayment so far.
Crowdstacker has made earning interest interesting for our investors so far. And payments have been made to these investors amounting to £13.4m in interest and capital repayment since the first loan launched in the summer of 2015.
As with any investing, capital is at risk when lending to businesses.
Crowdstacker launches Seedrs equity crowdfunding campaign.
We have partnered with equity crowdfunding platform to launch our own equity campaign.
We are really proud of everything we have achieved so far at Crowdstacker. Now we are crowdfunding for our own exciting development and expansion. You can invest in us through Seedrs.
The UK's online alternative finance market has grown from virtually nothing ten years ago to £4.58bn p.a. in 2016. That's a growth of 45% between 2015-2016. With the introduction of the Innovative Finance ISA in April 2016, we expect that this growth will rapidly accelerate.
At Crowdstacker, we are right at the forefront of these important changes happening in financial technology and alternative investing.
Now the next phase of development is about to begin and to support our plans we are looking to raise £800k.
Find out how you can get involved and become a Crowdstacker investor at www.seedrs.com/crowdstacker. As with any investing, capital is at risk.
Crowdstacker scoops 4 industry awards in 2018.
It's been an exciting year for Crowdstacker and we are proud to be recognised by the finance industry as well as investors in achieving 4 prestigious industry awards. This includes a Moneynet award gained in January 2018 for 'Best Innovative Finance ISA Provider' at the annual Moneynet Awards for the second year in a row. Moneynet is one of the longest established personal finance information sites in the UK having been around since 1997. Moneynet helps consumers increase their awareness of innovative and market leading products across the full personal finance spectrum including current accounts, savings, personal loans, credit cards and mortgages. The Moneynet annual awards aims to recognise the top providers and products from the last twelve months.
In March we were lucky enough to win the 'Best Crowdfunding Platform' in the prestigious ADFVN International Financial Awards 2018. The ADFVN International Financial Awards recognise and celebrate the best of breed products and services from across the financial services industry, both nationally and internationally. ADFVN.com is an online resource for private investors to monitor and track many different types of investments.
In March 2018 we were also thrilled to announce that we were voted 'Best P2P Provider' in the Online Personal Wealth Awards 2018. The Online Personal Wealth Awards are voted for by the general public. Readers of both MoneyAM.com and Stockmarketwire.com are asked to nominate and vote for companies they think are delivering excellence. Both websites are used by seasoned investors who look for investment industry news and commentary as well as stock market updates. This is the second time in a row Crowdstacker has been voted to win by readers of these online publications.
As the summer of 2018 has progressed we have also scooped the award for 'Most Innovative P2P Lending Platform' in the Wealth & Finance 2018 FinTech Awards. The Awards seek to recognise excellence amongst experts and firms from all aspects of the financial technology industry. They specifically look for individuals and companies that can demonstrate efforts to create an easier, more intelligent and secure financial world for businesses and consumers around the world.
We are proud of everything we have achieved so far and look forward to starting the next phase of our journey. To find out more about the Crowdstacker Seedrs equity raise visit www.seedrs.com/crowdstacker
As with any investing, capital is at risk.