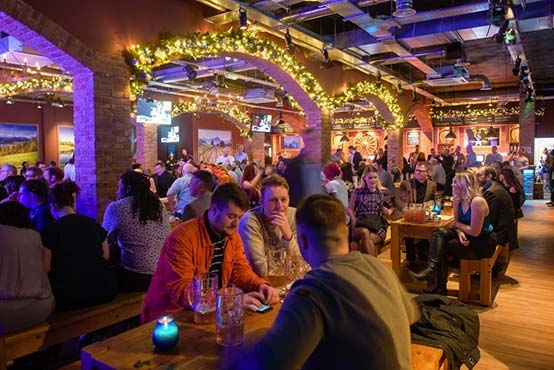 New Bierkeller draws in the crowd
9th January 2017
Burning Night Group's new entertainment complex in Birmingham draws in the crowd.
The successful raise on Crowdstacker has so far seen over £2m lent to the expanding concept bar owner and operator.
Burning Night Group has already begun to deploy some of the money lent to it through the loan on the Crowdstacker P2P platform.  Most notably with the launch of its newest entertainment complex in Birmingham's City Centre.
The venue celebrated its opening night with a celebrity party, welcoming VIPs from the worlds of sport, music, TV and modelling. More than 1,000 guests attended the glamorous event, hosted across all three bars: Shooters Sports Bar, Around the World and the Bierkeller. 
They were entertained with live performances from X Factor stars Anton Stephans and Chloe Jasmine, resuming her singing career after a stay in the Celebrity Big Brother house. 
The Voice finalist Lydia Lucy also proved why she was a big hit with fans of the BBC reality show, and her mentor Will.i.am, when she was joined on stage by DJ and MTV artist Damon Hess. 
Fans of Big Brother would have had no trouble spotting a host of familiar faces including 2016 winner Jason Burrill, Sam Giffen and Georgina Leigh Cantwell. 
Lots of potential in Birmingham for Burning Night 
The party gave everyone the chance to enjoy a first look at the triple complex, created by owners Burning Night Group after a huge investment in excess of £2million. They were treated to bellinis on arrival followed by non-stop canapes and free-flowing cocktails. 
Birmingham's Bierkeller is the fifth, adding to those already in Cardiff, Leeds, Liverpool and Manchester, and it represents a major investment for the Leeds-based company. CEO Allan Harper said Birmingham was an obvious choice when it was looking to further expand, and Broad Street in particular was the perfect location. 
"It is the second biggest city in the country and it has seen massive investment in recent years so it was the obvious place for us to go when we were looking to grow our own company," he explained. 
"We spent two years searching for just the right site to accommodate what we do – large entertainment complexes offering something for everyone. We were keen to find a super-prime location to allow us to be at the centre of the city's fantastic nightlife and Broad Street, which attracts 23million visitors every year, fits that perfectly." 
Birmingham complex aims for more of the same success for Burning Night
Around The World, where artists performed at the launch party, is the first at ground level, with Shooters sports bar screening all the major live sports events, and the authentic Bavarian Bierkeller with live oompah band at the rear. 
"It was such a fun night, with live music and fabulous drinks, and that's what we specialize in," he said. "By having the three bars, we really do offer a unique choice – we'd love people to see for themselves and try all three!" continued Mr Harper.
Crowdstacker launched the loan for Burning Night in September, with a target of raising £3 million for expansion into new cities, and refurbishment of some of the Group's existing sites.  The loan proved so popular that it exceeded £1 million within a matter of days of launching, and continues to attract strong levels of investment.
"We hope to fill the entire loan early in the New Year," explains Karteek Patel, CEO of Crowdstacker.  "It's proven very popular, and continues to attract those investing in P2P as well as those also using their ISA allowance.
"Seeing the results of some of the money being deployed already is particularly exciting, and we look forward to continued success for the new Birmingham complex as well as the other sites around the country."