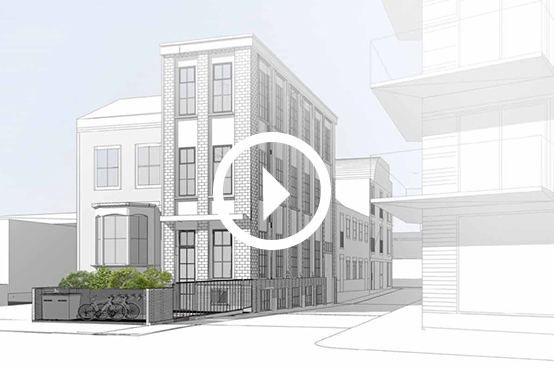 Look Inside this London Development
30th June 2022
Watch the update video here.
In December 2021 £378,000 was raised via a Crowdstacker PDL to help fund the redevelopment of a Victorian building in Mentmore Terrace, East London. Since then the award winning architect/developer (alongside the construction team) has been hard at work and exciting progress has been made.
The reception area of the top floor flat is almost complete with beautiful parquet flooring, bare brick walls throughout, and dual aspect timber sash windows. A bespoke designed staircase connects the living space with the two bedrooms on the floor above.
At the other end of the open plan living space a kitchen area has been created making the most of the natural light and enabling future residents to maintain a separation between relaxing in the living space and cooking/dining.
Both bedrooms have original stripped wooden floorboards, and built-in storage. The ensuite bathrooms are designed to match the overall aesthetic of the interior design.
The copious use of glass with dark frames throughout the building creates a sense of space and natural light, as well as a strong connection with the building's location in this buzzing and industrious part of Hackney.
Next steps will be to board out and plaster remaining walls, as well as the final fix for plumbing and electrics. At the time of the next update the flats should be even further progressed and the project will be nearing its completion.
If you're interested in how you could get involved in funding a property development, check out our investment page.