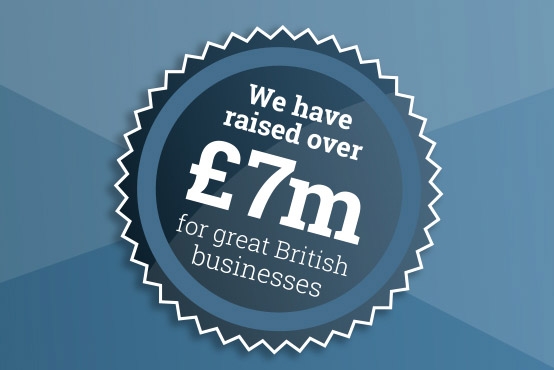 Crowstacker Funds Over £7million
9th June 2016
As a platform that seeks to provide a select few, carefully curated investment opportunities Crowdstacker is celebrating exceeding £7million in funds raised for businesses featured on the platform.
100 per cent of funds raised on Crowdstacker comes from 'the crowd'
And the exciting bit is that 100 per cent of this money has come directly from 'the crowd'. There is no institutional money involved, just simple 'crowdfunding' in its most pure form.
This is something we are extremely proud of. Particularly given that the achievement of this significant benchmark comes during a period when we have also been gaining recognition in some of the most prestigious personal finance awards around. We've been recognised for the high quality of our customer service and the compelling investment terms that our loans offer to the great British public.
Crowdstacker has had a very 'Awarding' year so far
This includes a Moneynet award gained in January this year for Best New Peer to Peer Provider which is awarded on the basis of the quality of the investment opportunities offered.*
And a nomination for a Credit Today Award for Best New Peer to Peer Platform where the criteria to win include providing best-in-class customer service, innovation and, of course, commercial success in achieving significant raises for businesses looking to borrow through the P2P model.**
And most recently we were voted by readers of www.MoneyAM.com, www.Sharesmagazine.com and www.Stockmarketwire.com, as runners up in the Online Personal Wealth Awards for Best P2P Platform 2016. This was even more exciting because we beat many of the big brand names in the P2P sector.***
Hundreds of Crowdstacker investors have been paid a total of £88,770.64 interest so far
Crowdstacker has made interest interesting for hundreds of investors so far. And payments have been made to these investors amounting to £88,770.64 since the first loan launched in the summer of 2015.**** Further highlighting the success of our approach to work only with businesses that can offer compelling forms of security against what they borrow, and good rates of interest.

* www.moneynet.co.uk/about-us/
** www.credittodayawards.co.uk/finalists
*** the full list of winners and runners up can be found in the winners supplement available here www.personalwealthawards.com/winners/
**** Date correct as of 9th June 2016