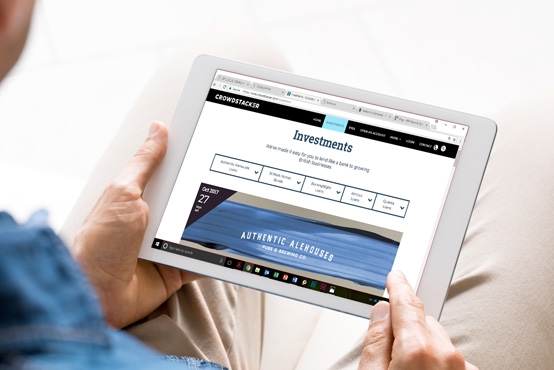 Crowdstacker adds Bonds and Loan Notes to its P2P offering
29th September 2017
More fixed income products for investors signal evolution towards exchange
As Crowdstacker enters the next phase of its growth plan, Karteek Patel, CEO, and co-founder of Crowdstacker discusses why the platform has added Bonds and Loan Notes to its P2P offering, and what this means for investors.
Crowdstacker broadens its investments offered
As one of the first P2P platforms to be fully authorised by the FCA and to offer the Innovative Finance ISA, Crowdstacker has already helped lead the way for two of the most significant developments in the UK's P2P industry.
But this is a constantly developing and evolving industry, which means we have to stay fleet of foot to ensure we are delivering what investors and borrowers need. This is why, as we enter the last quarter of 2017, we announced some important developments signalling the start of phase two of our growth plan.
In the Autumn 2017, Crowdstacker expects to launch a series of lending 'vehicles' to extend a range of exposure for investors across a portfolio of loans under one investment umbrella. The platform will broaden the types of fixed income products it currently offers to include bonds and loan notes.
Crowdstacker signals evolution towards P2P exchange
The changes are moves towards our ultimate goal of becoming an exchange where P2P loans, bonds, and loan notes are facilitated, and where investors and lenders can manage a portfolio of debt-based investments.
We anticipate using the new lending 'vehicles' to work with expert investment management firms focused on specific sectors, such as commercial property or retail.
As with all other investment products featured on the platform, Crowdstacker will continue to seek suitable security is in place and that the borrowing firms meet qualifying criteria.
These changes have already begun rolling out with the first new products expected to be announced in autumn 2017. We sought FCA authorisation to offer bonds and loan notes in 2016 and were granted permission in January 2017.
Changes could mark an important step in alternative business finance evolution
By opening up these opportunities we aim to create a unique blend of fintech and traditional finance, our next step in the evolution of P2P towards becoming mainstream.
The introduction of bonds and loan notes is really just a natural extension of the work we do with SMEs with funding requirements of more than £1 million. Essentially it enables us to offer further flexibility to choose a suitable borrowing structure for businesses, and enticing lending terms for investors.
Many investors want tax-efficient fixed income and borrowers need certainty
We can see from our research, as well as from the broader picture of the UK investment industry, that retail customers are really keen on products offering a fixed income. So, the launch of our first range of retail bonds and loan notes really just enables us to offer greater choice, as well as tax efficiency through our ISA.
As with all Crowdstacker's investments to date, all qualifying products will be eligible to be held as part of a tax-free ISA or qualify for the Personal Savings Allowance.
Crowdstacker can remain true to pure P2P model whilst broadening its offer
Our ethos has always been to offer curated opportunities to investors. These changes we're announcing today allow us to extend the types of investments we can offer. We try to encourage all our investors and lenders to manage risk by aiming for diversity across their entire investment portfolios, and now we can facilitate more of this diversity on our own platform.
For businesses, it means we can structure debt-based finance in the way that may best suit how they operate.
Crowdstacker has always remained true to a pure P2P lending model to date, where we offer retail customers opportunities to invest or lend to individual businesses. This provides the ability to pick and choose which opportunity or opportunities they invest or lend to, selecting borrowing businesses based on their own merits and the industries in which they operate.
We believe choosing an investment via our platform has always been like selecting a stock to buy and we are committed to this model.
Our vision for the future is to see our platform naturally evolve into an exchange for businesses to offer P2P and other fixed income products. We aim to ensure the quality of products meet a high bar, and these most recent innovations are a key step towards achieving this.