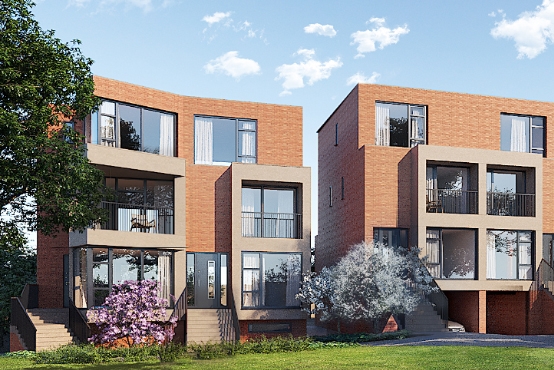 ​Peak Inside New Build Properties by LonPro
9th April 2019
One of the more individual features of Crowdstacker is that many of the businesses which raise funds through the platform issue investors with periodic updates about how they are using the capital raised.  
LonPro, a property development company working mainly in London and the South East of England, successfully raised over £4m on the Crowdstacker platform in 2018 with investors benefitting from a 7.5% p.a. return from an investment that can be held in an IFISA. 
The funds raised are now fully invested in three projects, which LonPro is delighted to report are well underway.
£4M deployed to build houses and flats
Project one is St Margaret's Avenue, which is located in the affluent North London suburb of Totteridge and Whetstone. LonPro's update indicates it is quickly approaching completion of this project.
The development comprises of seven executive modern houses and two flats, as well as the conversion of an existing house into two flats. Sales are due to commence in the summer 2019.
Project two is Alford House which is situated in a residential area close to Highgate Underground station. A roof extension is to be undertaken on four of the penthouses and was set to commence by the end of March 2019. LonPro intends to complete the project within a year.
Project three is a recently completed acquisition in Haydons Road, Wimbledon. This site is close to the town centre and will comprise of eight new contemporary style flats and six refurbished flats. 
For the next few months, LonPro explains its focus will be on keeping the projects on track to completion.
Crowdstacker investors who have made a peer to peer loan to LonPro can view the full update on their dashboard within their Crowdstacker account.  Find out more here about opening a Crowdstacker account.
All information in this blog post, has been provided by LonPro, taken from their April 2019 investor update. Above image is a CGI visual of the LonPro St Margaret's Avenue project.
Visit @lonproUK on Twitter and Instagram to view some of LonPro's property development project photos, CGI visuals and property interiors.
Risk warning
Your capital is at risk if you lend to businesses. Lending through Crowdstacker is not covered by the Financial Services Compensation Scheme. Tax treatment is dependent on an individual's circumstances and may be subject to change in the future.  For more information please see our full risk warning https://crowdstacker.com/risk-warning.