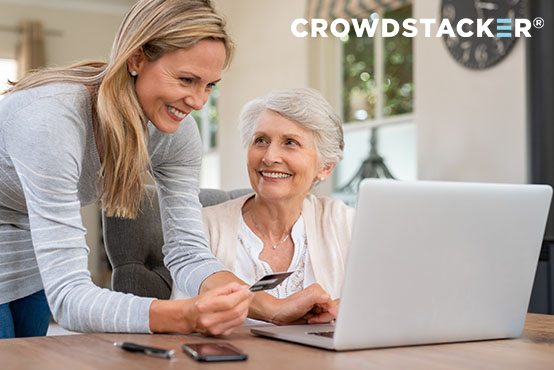 The Art of Shopping and Saving
The Art of Shopping and Saving
Online, in-store, catalogues, mobile, social media.  There are so many ways to shop nowadays which can be fantastic for choice, but how do you make sure you're getting the best deal available? 
We take a look at what tried and tested ways to shop and save are currently offering, plus some new-fangled technology which might just help save you a bit of cash.
Some old favourites – loyalty cards
Remember when Nectar and the Tesco Clubcards came on the scene?  They seemed so new and shiny, and represented something seemingly revolutionary in retail customer relationship management.  There can't be many people in the UK who haven't had a Clubcard or Nectar card at some point in the last 20 years.
But then came the stories of unused points languishing in people's accounts, unused.  And this was swiftly followed by scare stories about data collection and how the big supermarkets were literally spying on your homes by tracking what you bought, when and for how much.
We're probably all a bit more comfortable with the idea of loyalty cards nowadays, and happy to be offered incentives to buy more of the same or try our different brands – something that can only be done effectively if we let supermarkets 'spy' on us.  But we should also be mindful of whether we're getting a good deal in return.
Nectar points can be racked up by spending at Sainsburys, and spent at the same supermarket plus 400 other retailers.  Points are worth half a penny and are generally earned on the basis of spend £1 earn 1 point. 
The average weekly household grocery shop comes in at just over £60.  So that would earn you 60 points, or 30p.  Doesn't sound much does it?  But then this average doesn't include money spent on household cleaning products, or any other items purchased from Sainsburys including clothing, self-care items such as toothpaste and shampoo, or even toys and household items like towels, pans and china.  So in reality you could easily spend a lot more at Sainsburys and accrue a lot more points.
Plus there are ways to boost the number of points you get including special offers and by using the Nectar app.  If you read the Daily Mail it runs its own Nectar point programme allowing you to collect points when you buy the paper.
The Tesco Clubcard operates in much the same way with one point for every pound spent, or for every £2 spent on fuel.  150 points equals a £1.50 voucher, so as with Nectar points you're going to take a while to accrue anything meaningful.  Although it's worth noting that some retail partners offer higher discounts for the same number of points.
Plus, as with Nectar points there are ways to boost your point earning potential including by downloading the app, or by joining the Clubcard Plus club.
We support British businesses to invest for the future. Find out how we do this here.
Loyalty Points for Fuel
Perhaps less well known is the Shell version of the customer rewards scheme.
If your nearest petrol station is Shell, or your preferred refuelling stop then Shell Go+ is the thing for you. You can order a key fob or card, or just use the app on your phone. Check it out here: shell go +
Sign up and you can get points just by filling up the car. You need to spend £10 on fuel or a minimum of £2 in the shop to collect points during a visit. Then you can choose when you want to use your rewards. For example you can get 10% off hot drinks or food from the  Jamie Oliver deli, money off car products such as oil, and discounts for drive-thru car washes or jet washes. 
You also get money off fuel every 10 visits, £3 off shell v-power every 300L, and potentially other surprise freebies.
The New Ways to Shop and Save
As with most areas of consumerism, shopping has been taken over by a variety of new ways to shop and save online.  And some of these services, apps and payment facilities can help you save loads of cash.
If you don't already use Honey then check it out at www.joinhoney.com
Some of you will already be familiar with coupon and voucher sites such as Groupon and Voucher Codes.  And you may already by in the habit of checking them before you make an online purchase to see if there's a money off deal to be had.
Honey basically automates that for you, for free.  All you need to do is create an account and download the app – it works in conjunction with your web browser.  And it's all free.
So when you shop online the Honey app automatically searches for coupons and deals to alert you to deals or lower prices at other outlets before you make your purchase.
Helpfully it also includes something called DropList which is where you can list any items you want to purchase at some point, and Honey will then alert you when it goes on offer somewhere.
Dealgogogo is the extension for you if you use Amazon a lot.  It offers discounts of up to 90%, and all you have to do is create an account, install the extension/app and off you go.
With these types of services be aware that you are sharing your shopping data in return for some great online deals.
Shopping & Coronavirus
With the government guidelines on Coronavirus, online shopping may become the new norm for many over the coming months. Being able to find the best discounts codes for online purchases, through sites such as Honey or Dealgogogo, ensures you are making the most of your money and not paying too much.
Stores are also offering bigger discounts directly to customers through email marketing or on their websites to keep customers shopping. Signing up to emails from your favourite retailers or visiting their website will ensure you find out about any discount offers or codes they may have.
Retailers are each taking a different approach during these times, with some stating it is business as usual, whilst others are focusing more on how to serve customers in a contactless way such as MacDonald's focusing on their drive through and delivery services. Amazon has announced it is prioritizing the stock of essential household items and high demand products. Bags of Love (www.bagsoflove.co.uk) which usually offers personalised purses, cushions and canvas wall art has also started offering personalised face masks to its customers.
One area to watch out for though is any changes to courier or postal services to ensure that anything you do buy will be able to be delivered for when you need it. It may be inevitable that deliveries may be delayed due to staff shortages or needing to divert deliveries for more essential supplies. However, some retailers, such as Morrisons, have announced they plan to increase their delivery services over the coming months, with Morrisons planning to create 3,500 more jobs, to ensure they can cater for more home deliveries of groceries to customers. If you usually do your weekly food shop online, such as with Ocado or Sainsburys, it may be a good idea to think ahead as delivery slots can be booked up many days in advance.
If you're interested in finding out more about saving and investing check out our new magazine 'Fixed' which has loads of tips and hints about how to save cash.