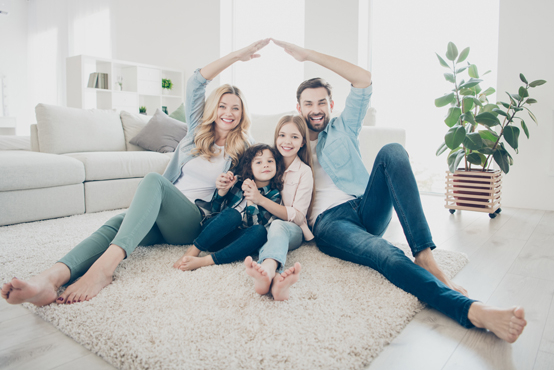 The impact of COVID-19 on the UK property market
Data and information is starting to emerge pinpointing the parts of the UK economy hardest hit by the lockdown procedures put in place to deal with COVID-19, and offering some predictions for the near and medium terms.
Avid investors will have a close eye on these commentaries, looking for clues and indications about where best to secure their money and hopefully vaccinate it against the worst economic effects.
Property, traditionally viewed as one of the nation's favourite asset classes, can't hope to be completely unaffected, but investors will be hoping it will weather the storm and emerge as strong as it ever was.
We take a look at what the experts are saying about how the situation is likely to pan out in the coming months and years.
Read our thoughts on what you can learn from other pandemics how to protect your money during a pandemic.
Top line thinking about what your house may be worth
For many everyday investors their home is one of the largest, if not the largest investment they have.  Its importance continues to grow with the latest data from the Office for National Statistics showing the value of what is termed 'dwellings' displaying above average growth from 2019-2018.
It's no surprise then that many of us keep an eye on the value of our homes regardless of whether we are planning to sell or not.
As an asset class it has performed very well over the last thirty years with the average house price rising from £50,000 in 1990 to well over £200,000 in 2017.  Even adjusted for inflation this represents a 160% rise.  The reasons for this huge increase are hotly debated but basically boil down to two main factors, low cost of ownership offered by low interest rates, and strong demand outstripping weak supply.
The good news is that if you bought your house a decade ago its value has probably still risen without you having to do anything other than enjoy living in it.
But, for those of us who have lived through house price crashes in the past we are all too aware that this situation can change rapidly.  Given recent events around COVID-19 and, lest we forget, economic uncertainty caused by on-going negotiations for Brexit, the question is: what is going to happen next to house prices?  And how long will this effect last?
Worried about whether you should be saving or pay down debt?  Check out our handy hints.
House price indexes show confidence
Several well-known property related businesses release regular data and commentary on the UK housing market.  They are always worth a quick read if you're invested in property and have five minutes to spare. 
Crowdstacker would recommend the seasonal residential forecasts released by Savills or the Halifax House Price Index which provides monthly information on house price movements and includes data going back as far as 1983.
Turning first to the latest report from Savills and the top line out take seems to be that the short term impact from COVID-19 and Brexit might be harsher than initially predicted in its Spring forecast, but that recovery would kick in quickly with things returning to near normal by the autumn 2021. 
Halifax paints a similarly confident picture expressing the belief that the housing market resilience will see it through any short term negative effects of the lockdown period on the UK economy. 
Deeper reads of both pieces will reveal the various indicators used to come to these conclusions.  Points considered include growing levels of unemployment and how quickly employers will be able to start hiring again, consumer confidence and appetite for moving house or owning your own home – has it been sharpened by the last three months of being confined to our houses and flats?
Property – still a good bet?
To paraphrase a well-known saying: it seems the only thing we can be certain about at the moment is that things are uncertain.
Rather frustratingly we have been living with a lot of questions but very few answers for some time.  And not just because of COVID-19. 
Will we have to go into lockdown again?  How long will it take businesses to recover?  What tactics will the Government use to shore up the UK economy and how will this affect investments?  And many more questions.
We often point to the past to help inform us about the future, and in so doing we can see this is not the first the UK economy has been severely challenged, and also not the first time humanity has struggled with a global pandemic.  It's comforting to know that recovery has always followed hardship. 
And, perhaps in the specific case of the UK property market, it is also comforting to fall back on the prediction that the two main drivers of our buoyant property market for the past few decades are still there – low interest rates and a lack of supply.
More interested in your lawn than your property value?  Check out our guide to getting your lawn in shape for summer.