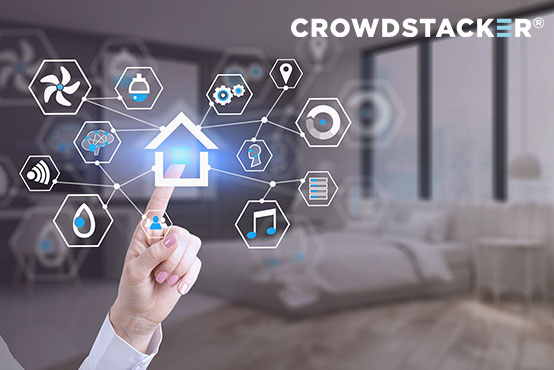 Get Connected and Smarten Up Your House
Get Connected and Smarten Up Your House
There are a multitude of ways you can make your home smarter and easier to manage - from iRobots to switchbots. And if you're a savvy shopper there's some great tech out there to suit almost every budget.
Clean Up With New Tech
Who doesn't like the idea of cleaning the house without having to lift a finger?  With robot vacuum cleaners now priced more keenly, the dream could be closer to reality than we might think.
If you have a healthy budget check out the iRobot Roomba S9. Although not yet widely available in the UK and with a whopping £1400 price tag to boot, it does offer an array of fancy features such as self-docking, and it also empties itself as well. It is also clever enough to know where it has already vacuumed and where it still needs to clean by using advanced navigation technology which creates an accurate map of your home.
For a mid-price range check out the iRobot Roomba 960 priced around £611. It navigates itself around your house, and stays away from the rooms and items you choose with its visual localisation technology. It also has dirt detect sensors recognize concentrated areas of dirt and prompt the robot to clean them more thoroughly.
If you want to spend less, then the Lefant range of robot cleaners might be for you. For around £99 you can buy the 1800pa model.  We tested the Lefant vacuum and were surprised how good it was for the £99 price tag. On a hardwood floor, it cleaned exceptionally well and with its rotating brushes it managed to sweep even into the edges of the room.
With the Lefant £99 vacuum you need to empty it and redock it yourself and it doesn't have other fancy features that the more expensive models have such as wifi.
Once the vacuuming is done it's time to mop, and luckily there are robots for that too.
Using much of the same technology as the hoovers to navigate, robot mops can make a pretty decent job of keeping hard floors clean.  The Brava jet 240 retails at around £189 or if you want to spent a bit more the IRobot Braava 390t is around £290.
Even the Garden Can Get Smart
Just as with robotic vacuum cleaners and mops, so there are now a small range of robotic mowers.
One imminent new release comes from iRobot.  The Terra t series of lawn mowers has not yet been released in the UK but when it launches it will offer the ability to keep your lawn tidy all year round.  It is guided by some very smart mapping tech that maps your garden and is able to cleverly avoid obstacles.  It even claims to be able to create those lovely parallel straight lines you've lusted after to make the neighbours jealous!   
A Smart Home Can Do Things On its Own
It's not just about doing the cleaning.  Technology is here to help in the home in all sorts of ways.
Switchbot, an American company now sells its switch pressing products on Amazon UK.
Switch pressing products are literally what they sound like – tech which can automate a range of on-off buttons such as lights and household appliances.  Not only does this mean you can switch things on and off remotely, but timers can be used to automate appliances on a regular schedule.  Whilst this might sound like the ultimate in laziness, think of the security advantages of being able to control your lights whilst you're away from home, or put the oven on ready for dinner when you're running late at work.
The Switchbot thermometer and IFTTT can make all your appliances smart including thermostats, Air Conditioning and much more, to keep your house at a comfortable temperature without needing to think about it.
All these Switchbot products require a hub or hub plus which can be used in conjunction with Alexa and Google, and it claims to already work seamlessly with 4000 home appliance brands.
And if that's not enough to get you excited, what about a robot which can open and close your curtains?  Switchbot is working on this as its next product to market.
(Incidentally Switchbot is a great example of the power of crowdfunding having raised the cash needed to get going on Kickstarter).
You don't even need to answer the door
Another amazing gizmo currently available is the Ring doorbell which allows you to look at who's at your door even if you are not at home. 
Ring also enables you to speak to the house caller which can be handy if you have a delivery and you need to give them instructions about where to leave the parcel in your absence. 
And it's also great for home security because you don't need to reveal that you are not actually at home, and the camera can be used as a CCTV alternative.  It can also be used with Alexa.
Most of us are probably more than happy to go about the daily chores and indeed might miss some of them, such as cutting the grass on a lovely summer's day.  But there's no doubt this type of Smart Home technology gives us options, is potentially a great help to those with disabilities, and can help enormously with home security.
If you're interested in finding out more about saving and investing check out our new magazine 'Fixed' which has loads of tips and hints about how to save cash.