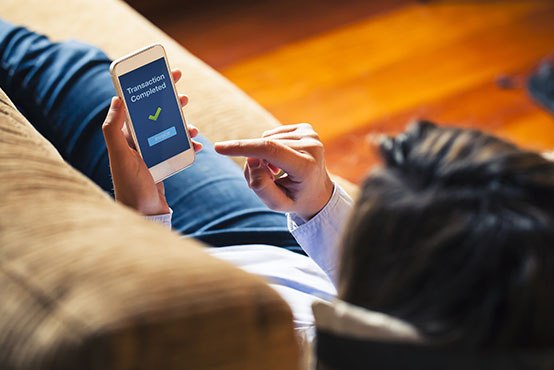 The Best Money Management Apps to help you save money
Managing your money via your mobile phone is something we're all getting a lot more used to. Security has been proven to be no more of an issue than it is with any other form of online banking, and the added convenience of being able to use your phone to keep on top of payments, managing your monthly budget and keeping track of your savings and investments is proving irresistible in today's online world.  
New money management apps pop up all the time so we thought we'd take a look at some of the best out there at the moment to help you and your family with a range of tasks, from Squirrel which automates your budget, to Rooster Money App a pocket money app for kids, and the HMRC app which helps you stay on top of your tax, and ii investing for phone-based trading, and finally Splitwise which handles any bill splitting.
Squirrel
Squirrel is a really helpful little tool if you're trying to stick to a strict budget which makes it ideal for a range of people including university students who are managing their money for the first time, and people who need to make sure they don't accidentally overspend each month.
At the heart of the app is the function to ring fence money for specific purposes, such as bill payment. Once you set the terms for a variety of 'rules' on your account Squirrel will make sure that the money can't be touched so it is always there when the expected bills become payable. This is perfect to use in conjunction with utility bill direct debits or rent payments.  It also lets you set savings goals so you can stay on track saving up for things like holidays or just putting money aside for a rainy day.  For people with less predictable income and outgoings it might be a little prescriptive, but for those with simple financial situations or the need to manage a household budget this is a perfect little tool for making sure you stay within your means.
RoosterMoney
RoosterMoney is one of the newer kids on the block for children's pocket money. Fixed Magazine is a huge fan of anything which enables kids to learn about money and how to manage it within a digital environment.  By the time the current generation of kids are adults cash may well be all but obsolete in most situations, so it is really important they learn to deal with their finances in the abstract world of digital money. 
Why do we like this one so much? Well, it has all the functionality of other players in this field including the ability to set up automated pocket money payments, the ability to set savings goals and to link payments of pocket money to tasks and chores. On top of this it also enables you to set up accounts for children as young as four years old so you can start the habit of money awareness at the same age as they are starting basic mathematics.  Whilst it is unlikely your average four year old is going to make much use of a debit card or the ability to pay for purchases online with their Rooster card, it makes transferring money very easy for any grandparents, aunts and uncles or other family and friends who want to gift money as birthday or Christmas presents.
HMRC App
Government technology may not usually be high on anyone's list in terms of making life easy but the HMRC app is the exception to this rule. You can use this helpful tool to keep track of your PAYE payments, your tax code, managing your tax credits, calculating tax and take home pay, and even accessing your Help to Save account. This is probably most useful for people who do their own tax return, especially where it is fairly complex owing to multiple income sources, or anyone who has a complex and changeable income so their tax code isn't always clear cut. We like it because it's also a simple way to have on hand your National Insurance number and Unique Tax Payer Reference which are otherwise impossible to memorise and often mysteriously hard to locate on demand in even the most well organised filing systems.
ii investing
If you're into trading stocks and shares then it might be worth considering the ii investing app as a way to manage all your deals. From it you can manage all manner of investment accounts including ISAs, SIPPs, Trading accounts and even JISAs for your kids, and once you've set it all up the dashboard gives you an easy-to-view overview of the current status and the ability to trade for a flat fee. On top of this you can view market information, access expert advice and insights, and a whole library of research to help you develop your investing strategy.
Splitwise
Last up is a tool that should be high on the recommendation list for any university student or young adult entering into the real world of paying bills and managing household finances.  Splitwise automates all the fiddly little bill splitting calculations that are needed when you live in a shared house such as student accommodation or group rental.  It can even be used for group holidays or family expenses, basically any situation where multiple parties are contributing to costs. Basic functionality lets you track expenses and repayments whilst allocating expenses based on percentages or share. You can also use different currencies (helpful if you are on a group holiday) and the paid-for advanced version enables you to scan receipts, analyse expenditure and search through expenses.
If you're yet to dip your toe in the water of money apps, or even if you are a seasoned pro at using your phone or tablet to manage your cash, these five apps all have great tools to make life easier and speed up financial admin tasks.
If you're interested in finding out more about saving and investing check out our new magazine 'Fixed' which has loads of tips and hints about how to save cash.